Sam Pearman's Kilimanjaro Climb - October 2019
So over after a few pints at The New Inn in January, I woke up to realise that I had volunteered to climb Kilimanjaro...
It was after discussion and learning from our friend Max Gower about his family's charity Born to Fly, which they set up after the tragic death of his brother Roger.
Roger had been tracking a poacher from a helicopter when he was shot down.
Max and his family set up Born to Fly to build and renovate schools in Kenya and Tanzania in the firm belief that education is the best method of solving a complex and seemingly never-ending problem.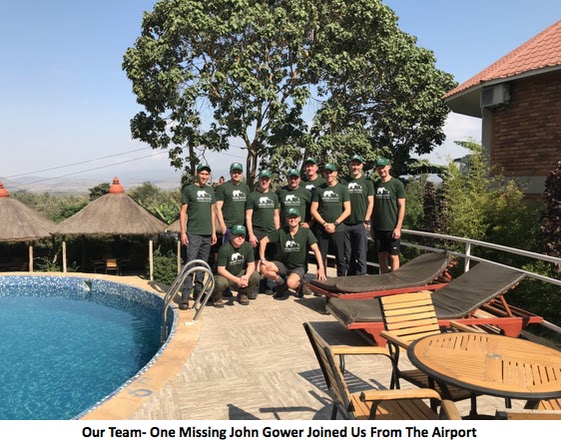 DAY 1
We set out to climb the mountain along the Lemosho route. The route takes 8 days and is devised to offer progressive acclimatisation.
Our group total 11 people all a mixed group of Gower friends. Plus a token American called Nate from Nebraska.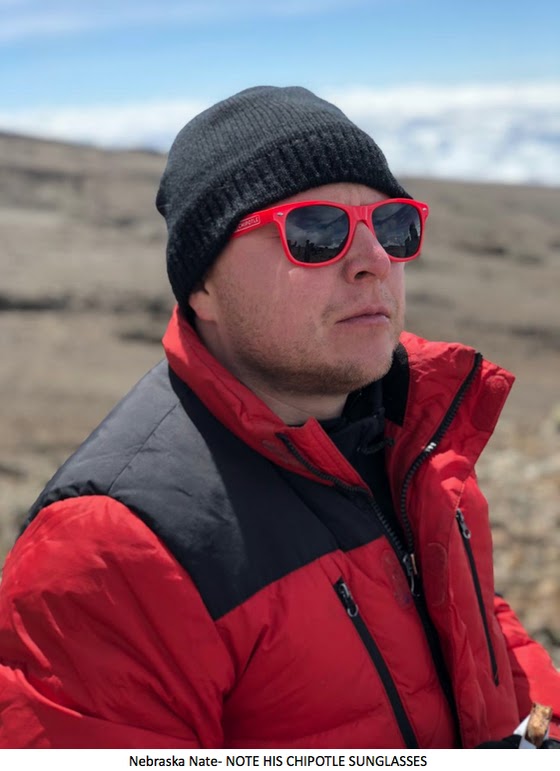 Our first staging post was Masaillodge, about an hour from Kilimanjaro Airport.
Here we met our guides - Lazarus, August, Isaac and Prosper. We jumped in a bus and headed off on our trip.
After about 3 hours of bouncing along the Tanzanian roads, we arrived to register and meet up with our team of porters. Shockingly we had 40 porters carrying all our kit.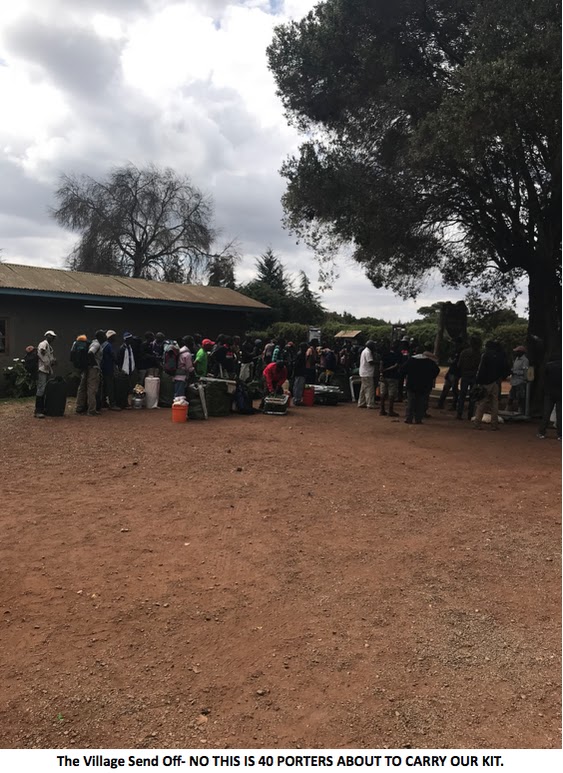 Finally, after checking the porters weren't carrying over the weight limit, we headed off.
Our first hike was a steep walk through the rainforest for about 3 and half hours.
We had left the porters to unload the vast amount of kit from the roof of our bus, but they had caught us up within half an hour. The speed at which they moved was impressive, they also carried the equipment on their heads. One guy had 8 tents in a roll on his head.
When we arrived, they had made the camp and our tents and had cooked a feast for us. We were in high spirits - at this stage the altitude was 3030m. This was called Machame Huts.
DAY 2
We all slept well and rose with a cup of tea and headed off for the first proper day's climb. During the day we cleared the rainforest and moved up out into the scrub land. Our camp was again ready when we arrived, the day had been really steady and comfortable. The area we were now in was rocky and desolate but commanded really amazing views of Kilimanjaro. Seemingly so far away. Our Night 2 Camp was New Shira Camp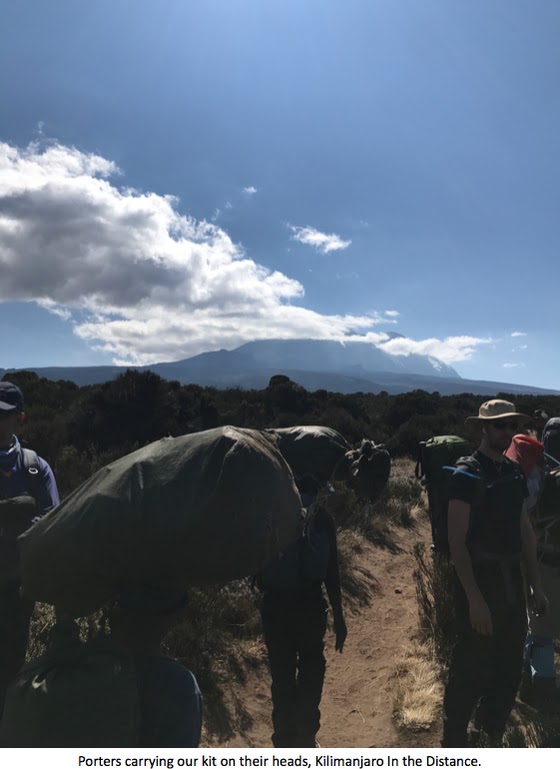 DAY 3
Our second night on the mountain was spent at 3610m - a couple of us had the first effects of altitude sickness, some sick. We woke up to an exhilarating clear morning with unbelievable views. With the weather so good we carried on in great spirits but a couple of the group had increasing problems.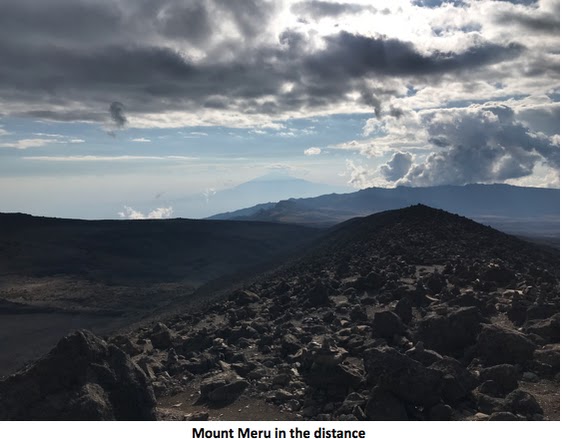 Day 3 was tough as we walked a long way and arrived at camp exhausted. The camp was barren of anything - moonlike. The temperature had dropped.
We were now at Shira High Camp at 3847m. As we arrived the weather turned and we had snow!
I had excruciating headaches and Max had severe vomiting and the guides were beginning to get worried for him.
After an hour or two the snow stopped, and we ventured out again, to walk up to a peak to push ourselves to above 4200m and got a nice view of Mount Meru off in the distance.
We returned in a more solemn mood.
DAY 4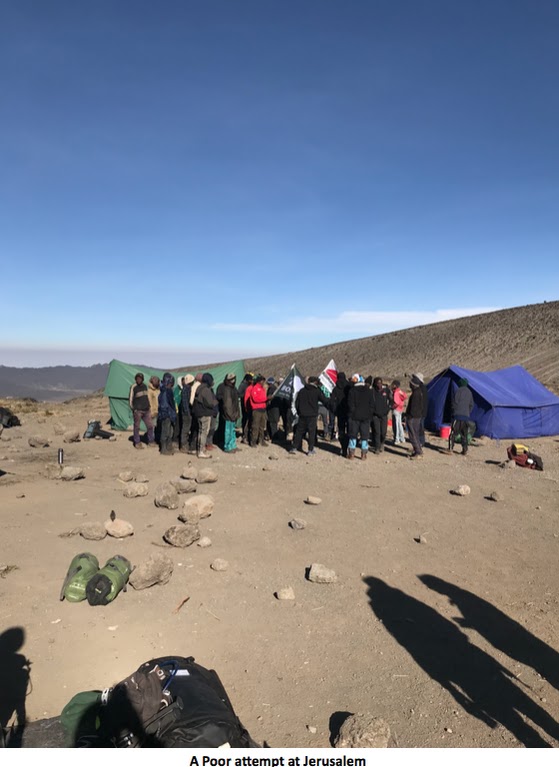 We woke to another beautiful clear morning, with great views of the mountain, which was slowing feeling closer. Max had had a bad night and the porters and guides got together and sang a few local tunes in an attempt to raise our spirits. Rather embarrassingly, we attempted to sing 'Jerusalem' back to them, a pretty poor response. Nebraska Nate not helping much.
Max was really struggling, and the guides were in limbo as to letting him continue as we were getting pretty high and his symptoms were not getting better. Max plodded along low on energy.
We arrived into Barranco Camp at 3985m, having taken the route via Lava Tower, to take ourselves higher than before.
The camp was busier than before, a clear sign that Kilimanjaro is a popular place. Barranco camp is a staging camp where other routes converge for the summit.
The temperature was very cold, particularly when the sun went down. Max had not got any better. And plans were afoot to take him home.
DAY 5
We slept badly and as a result the energy was beginning to waiver. A brilliant morning again helped to raise our spirits.
The view was set out ahead of us and we were to climb the Barranco Wall a very steep rocky route taking us immediately high towards camp.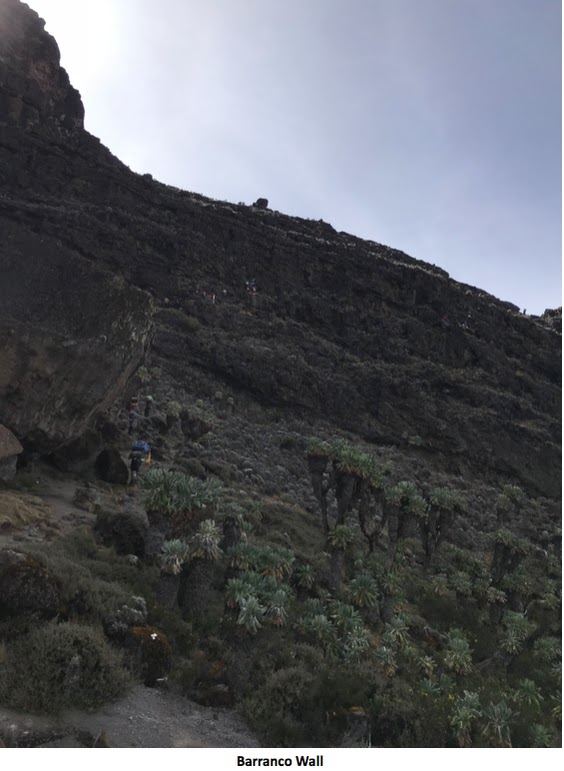 We were heading to Karanga Camp on a long day taking us up and down very steep hills.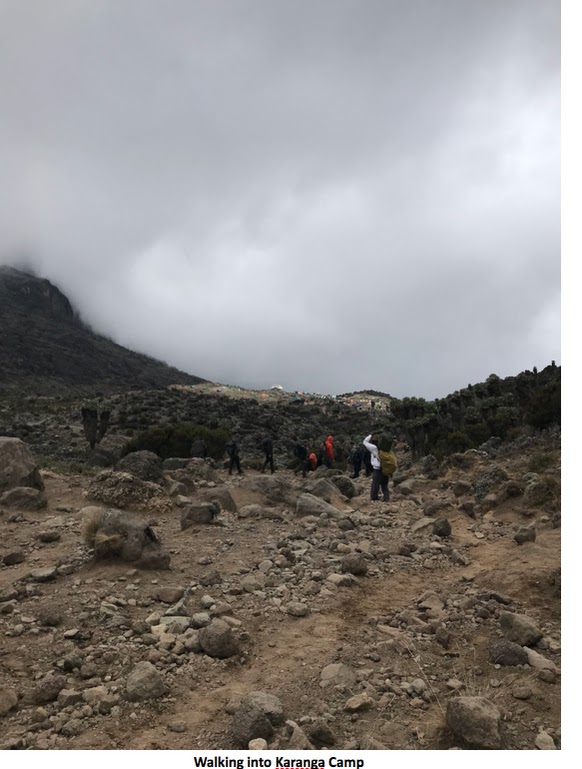 When we arrived, the clouds had closed in, so not much of a view. We ate and turned in.
Max had somehow managed through the day and had improved; his energy had returned.
DAY 6/7
We awoke to an inspiring view, we were well above the clouds, with a close up of Kilimanjaro just above our heads. We were all now feeling jaded through lack of sleep and struggling to get food down us, but the morning view again got us and out.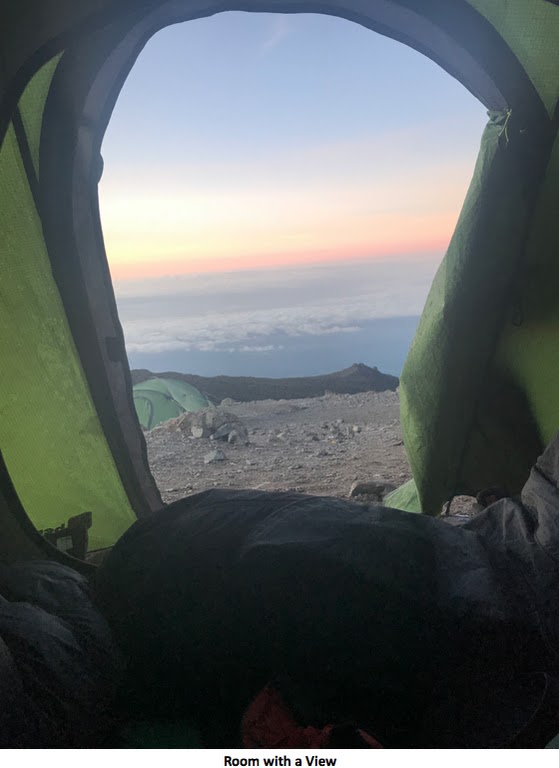 We headed off to Barafu High Camp c.5000m. This day was shorter but steep, Barafu high camp sits c500m higher than Barafu Camp and we did this to steal a march on the other groups down below on summit night.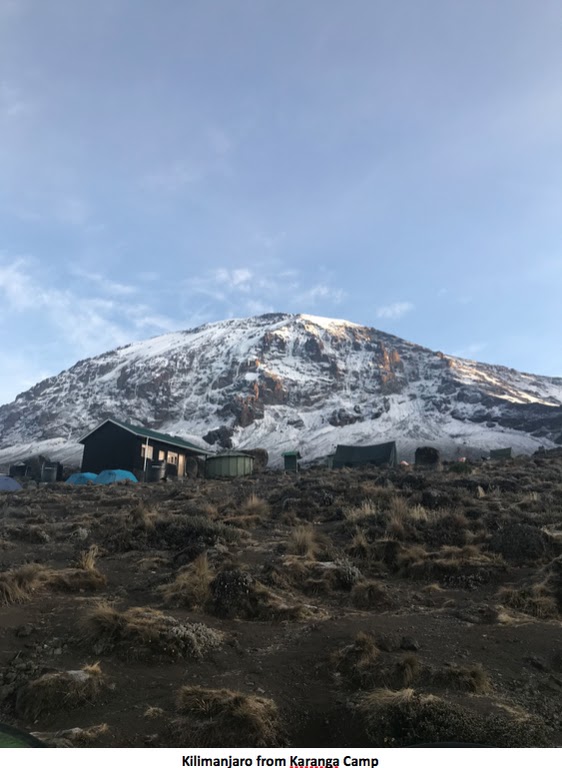 Having left Karanga camp at 7am we arrived in at Barafu High Camp at 11am. We had quick snack and were told to go to bed at about 2pm, which is easier said than done high up a mountain, in broad daylight with anticipation for the following day. We then were woken for an early supper and a brief chat about the following day. Again were went back to sleep to be told that we would be woken at 10.45pm to commence our summit at 11.30pm.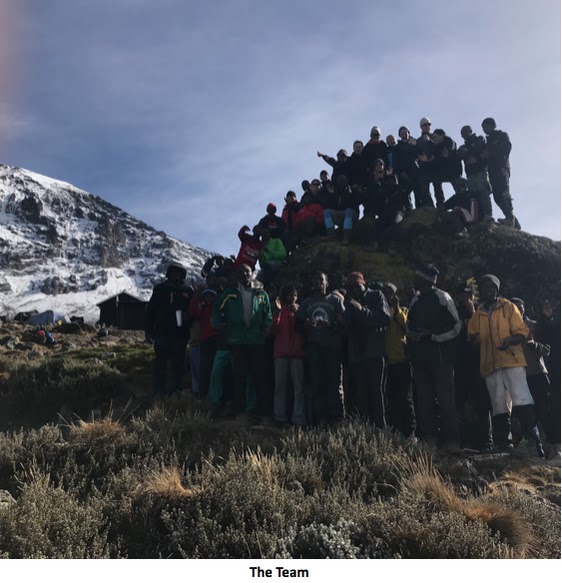 After another short (and pointless) sleep we donned the head torches and every item of clothing and started our summit.
It was a cloudy night, we were single file, and walking very, very slowly. We had mini breaks every two hours or so. Not much was said through this night, everyone listened to music or audiobooks. Very slowly we began to sense the dawn was not far off.
We reached Stella Point 5720m and a sense of relief dawned on me as it was clear that the peak was in reaching distance. The plan was to hit the peak as the sun came up. Pleasingly this all went to plan and we reached Uruhu Peak at about 5.40am. Everyone had made it.
The summit was beautiful, incredible views. But it was so cold, there was little time for photos as my hands got so cold, so fast. We stayed on the summit for about 15 minutes. Max and his brother John tried to hit a few golf balls off the summit.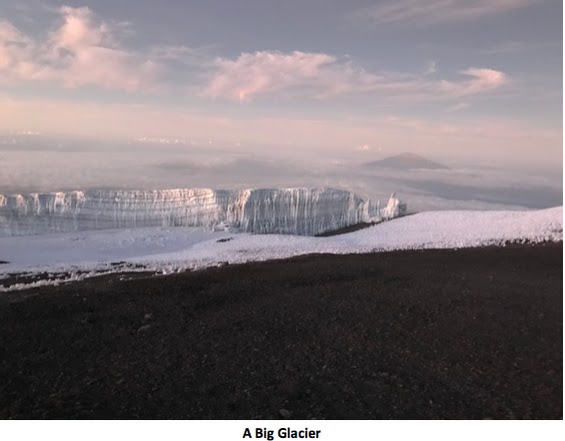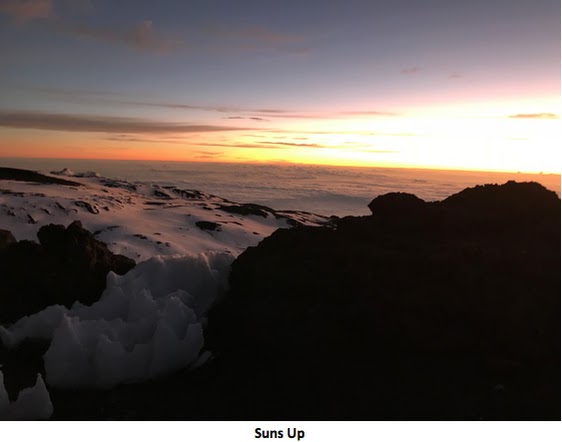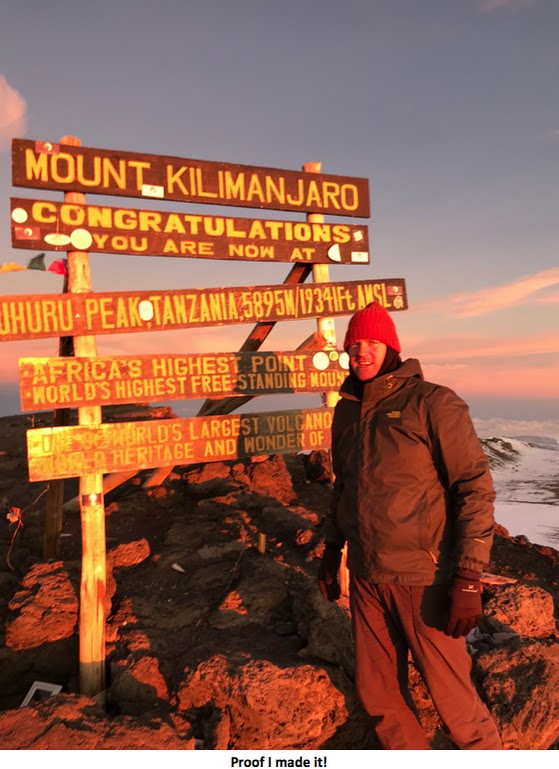 We turned and literally ran, the descent was hard going, the terrain very rough and loose, we tried to ski down, without skis, which took some getting used to. It took another 4 hours to reach our camp from the previous evening. I collapsed into the tent and had a four hour sleep.
We woke for a quick bite to eat and then began another four hour descent on similar terrain.
A descent that seemed never-ending took in drastic changes in scenery. Snow and ice, to rocks and scrub, then slowly we saw green, we eventually reached the rainforest where we found our camp ready for us. The porters had beaten us again.
DAY 8
We had a final night in our tents. A little bit of food and straight to bed. In the morning, our porters and guides sang a few of their songs and they received their tips for the trip, about 40 US dollars each for all their efforts. A small amount for something so exhausting, all the while they had big smiles on their faces.
After a breakfast we began another 4 hour descent to the exit point, it was fantastic to feel we had all made it and that whilst it was exhausting and relentless at times, we had done it for a great cause.
A cold Kilimanjaro beer went down in seconds. We were done.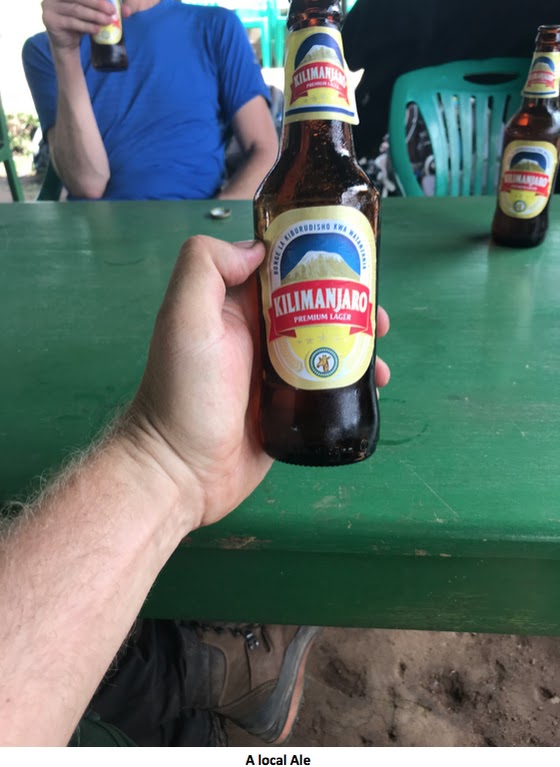 A few things I learnt:
Diamox, an anti-altitude sickness drug is a wonder, without it was a nightmare.
Despite many attempts, there is no mobile network coverage on Kilimanjaro, unless rather irritatingly, you work for Goldman Sachs.
Zanzibar is in Tanzania, and is NOT in fact a country
Cotswolds Outdoor is a wonderful place.
Haribos are a very good energy source
Please look at www.borntoflycharity.org for more information on the cause.
And if any of this impressed you, then the my justgiving page remains open. Thank you!
Grapevine is a trusted network of private members, linking kindred spirits from town or country. Members promote, sell or buy goods and services within the network.
Grapevine also believes in supporting young people to get a strong start through internships and work placements. We also help a number of charities including Heads Together and The Injured Jockeys Fund.