Mary Morrison's diary of the 2018 Melbourne Cup.
Mary Morrison shares an extract from her diary about her recent trip to Australia with her husband, trainer Hughie Morrison, who trained Marmelo to come second in this year's Melbourne Cup
We arrived in Melbourne a week before, and this is an account starting at the final day of what has been a massive build up to "Cup" day.
Monday November 5th
Today is the last day before The Melbourne Cup, when the jockeys and their trainers sit in open-topped Triumph Stags and are driven very slowly in a procession through the cordoned-off streets of Melbourne.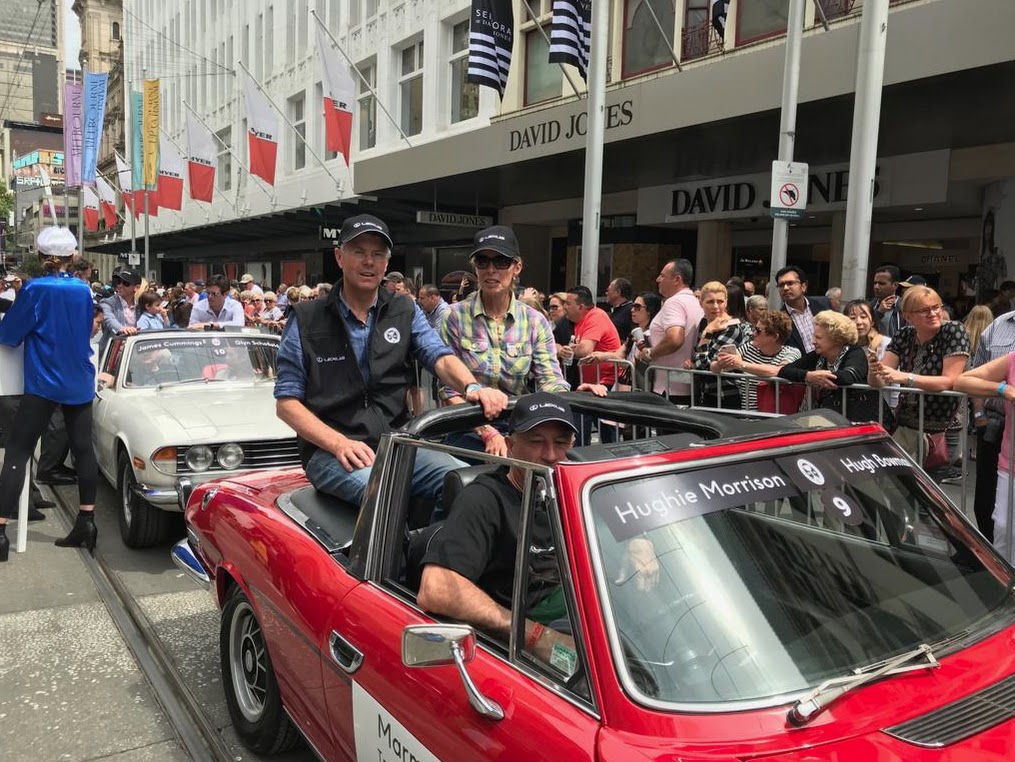 The weather has suddenly become hot and sunny, which is a pleasant surprise and adds to the carnival atmosphere.
The Triumph Stags are lined up one behind the other waiting for their jockeys and trainers to climb aboard. Loudspeakers are blaring, horns and whistles blowing, bagpipes playing….
Crowds of cheering and waving racing enthusiasts line the street about four or five deep, hoping to catch a glimpse of their favourite jockey and trainer. Previous Cup-winning horses from years gone by are also parading in front of the cars.
Our jockey Hugh Bowman is a great favourite as he is very well known and especially for being the jockey that rides Winks, the famous mare that never stops winning. We waited for Hugh but he never turned up...it was a bit of a shame as he and Hughie were supposed to sit together - the two Hughies…
Someone said he may not have wanted to come as he might have been needing to sweat. I did wonder about that and decided it was probably the right thing not to come.
Anyway in the end, I sat beside Hughie rather than trot along beside the car (which I did last year feeling a bit of a lemon!). It was fantastic as we saw some people from home who we had no idea we were here. Seeing racing supporters cheering and waving was very morale boosting.
All this razzmatazz fills in the time we are waiting, keeps us busy and abates the nerves.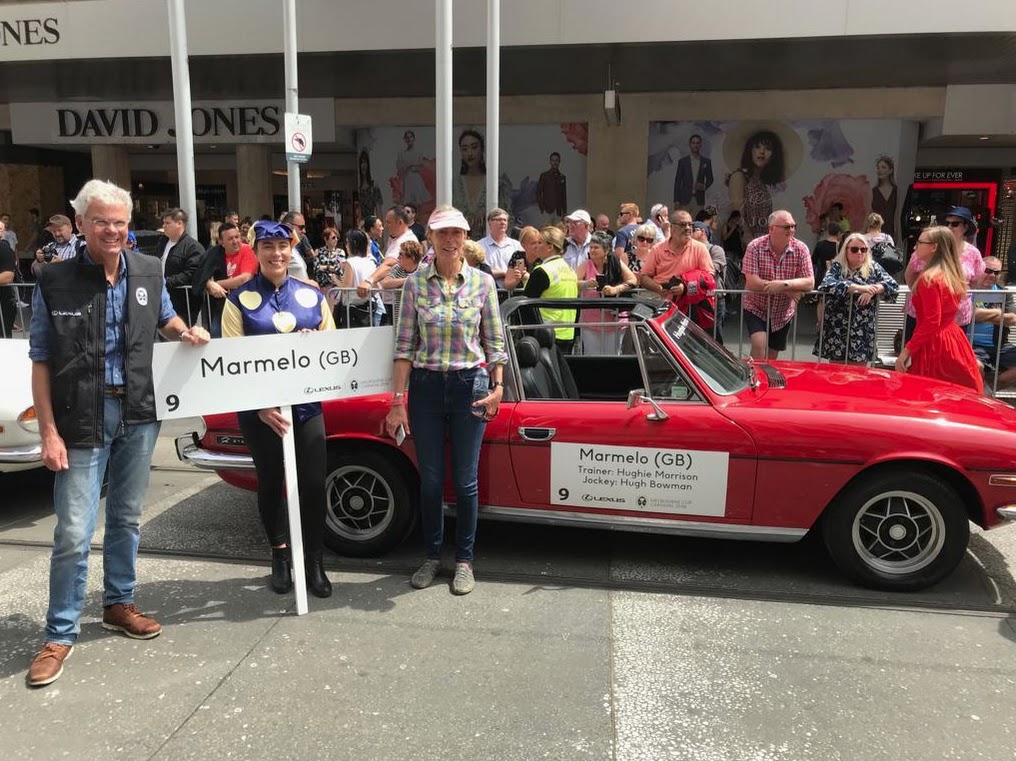 Tonight we have the High Commissioner's Drinks Party at Government House. We went along on a lovely evening, walking up the hill to the imposing white building, built in the 1890s - it was warm enough to stand outside on the lawn.
Everyone was there, all the people one sees every day and have got to know, now familiar faces, and although tomorrow we will be tense and worried, tonight we are cheerful and enjoying the High Commissioner's hospitality.
There was even an old 25 year old former (equine) winner of the Melbourne Cup, being fed carrots by us all. He looked to be in tremendous condition for his age and I noted his stature - a huge big wide deep chest and backend. I thought of Marmelo and felt a pang of nerves (especially as the High Commissioner had tipped him for tomorrow's race in her speech, as she liked the trainer so much apparently!).
Tuesday 7th November - Melbourne Cup Day 2018
Marmelo is definitely a horse that goes better on ground with a bit of give in it, and we kept hearing about approaching rain last night, so we were praying it would arrive in time.
So when we awoke to the sound of rain splattering down in torrents, we couldn't believe our luck.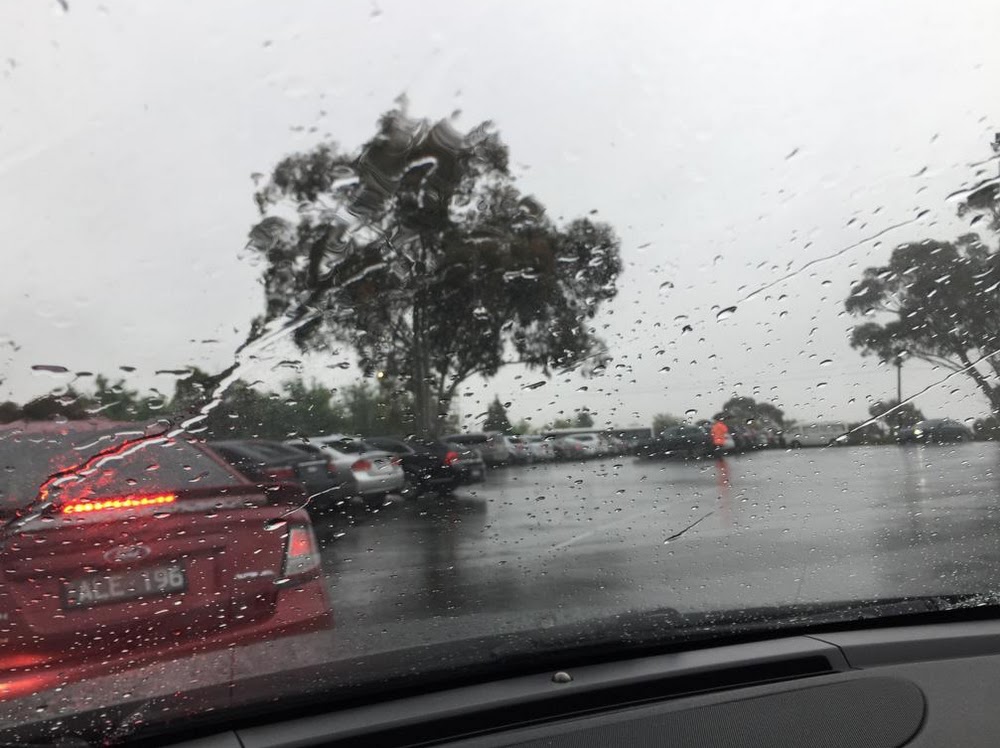 We arrived at Flemington to find we could hardly get out of the car as the car park was like a swamp - streams of water flowing fast over the tarmac. I thought, "What if it's too much and the track turns into a ploughed field?He'll hate that."
The water went over my (at least 10 years old, luckily) Stuart Weitzman shoes but had to continue sloshing through the mud. Itwas the same for everyone. Nobody whinged or complained.
Today was a public holiday and the most important day of the year to most Australians...Melbourne Cup Day.
We were taken to the Committee Room, where we were to have lunch at a table reserved for us and our owners. The room is a very comfortable wood-panelled, softly-carpeted and decorated in a pale yellow with oil paintings of countless previous equine winners of Melbourne Cups adorning the walls in their gleaming gilt frames. Extravagant arrangements of yellow roses everywhere to match those adorning the railings of the two paddocks and every pathway down below.
Sadly Marmelo's English owners did not come to Melbourne this year, and we missed them, but his Aussie owners are great and felt lucky that Marmelo had made it again this year.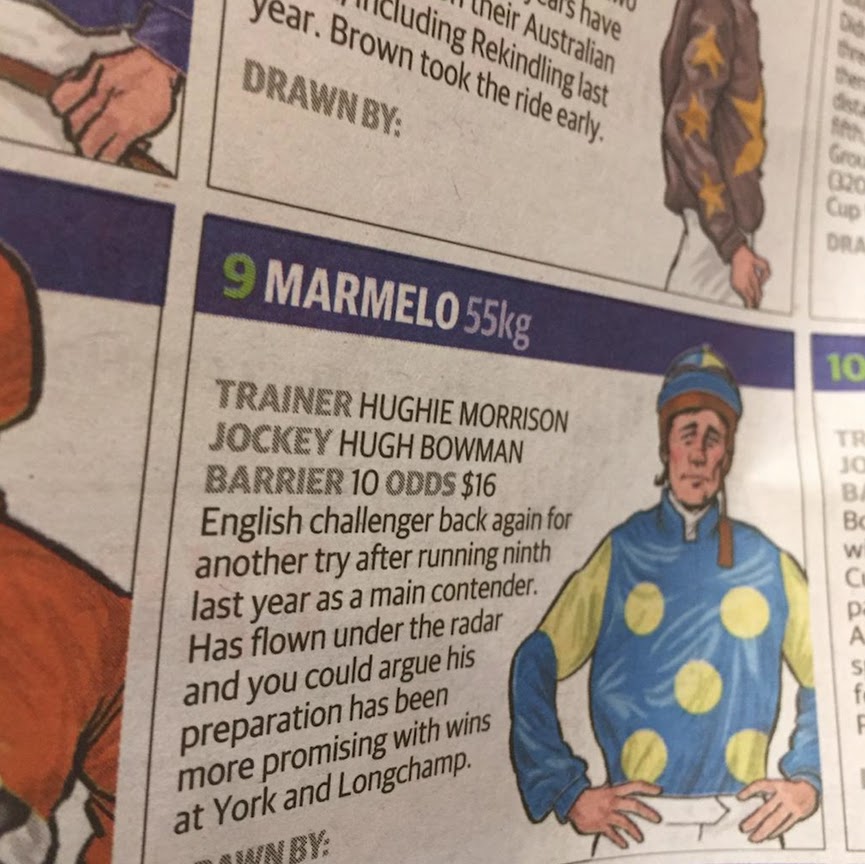 My nerves got the better of me and I could hardly eat lunch. Eventually the rain stopped and we went to the racecourse stables to see if Tom had brought Marmelo up yet. I was most concerned he hadn't appeared then learnt from Hughie that he had been urine tested beforehand as well as bloodtested and had had 6 vials of blood taken out. This is a considerable amount to extract from a horse before a race and we wondered if anyone else had had to suffer this treatment that could have made a horse very upset just before the race.
Luckily Marmelo has a wonderful placid temperament and it didn't seem to affect him.
The sun began to come out and we helped Tom to saddle him up. I passed Hughie Bowman's saddle to Hughie noticing that it was made of crocodile skin. The horse stood quietly while Tom did the final touches and Marmelo was ready.
He stood and waited patiently, cross tied as all the others were. He looked absolutely wonderful, very relaxed but alert, taking everything in. I stroked his head and nose and he licked my hand...not to taste the salt like horses sometimes do, but just a quick movement as if merely to acknowledge my presence, which I hope was reassuring him. Or was he reassuring me?! He just looked cool, calm and confident as if he knew what he had to do and he was ready to do it.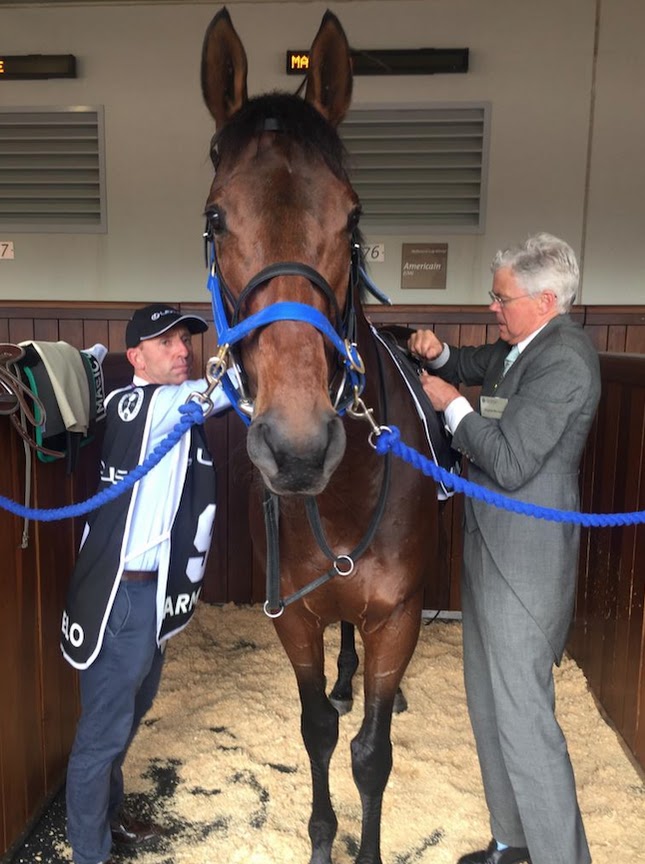 While we were waiting to be allowed into the pre-parade paddock, a chestnut colt jogged past us rather flashily on its toes. Marmelo stepped forward and gave a low warning whickering noise as if to say, "Before you get too above yourself, watch out, I'm about and I'm the boss around here!" He knows he is the leader of the pack at home and relaxes more if he is leading the string rather than following.
Tom bursting with pride and anxiety led his 'mate' into the pre-paddock.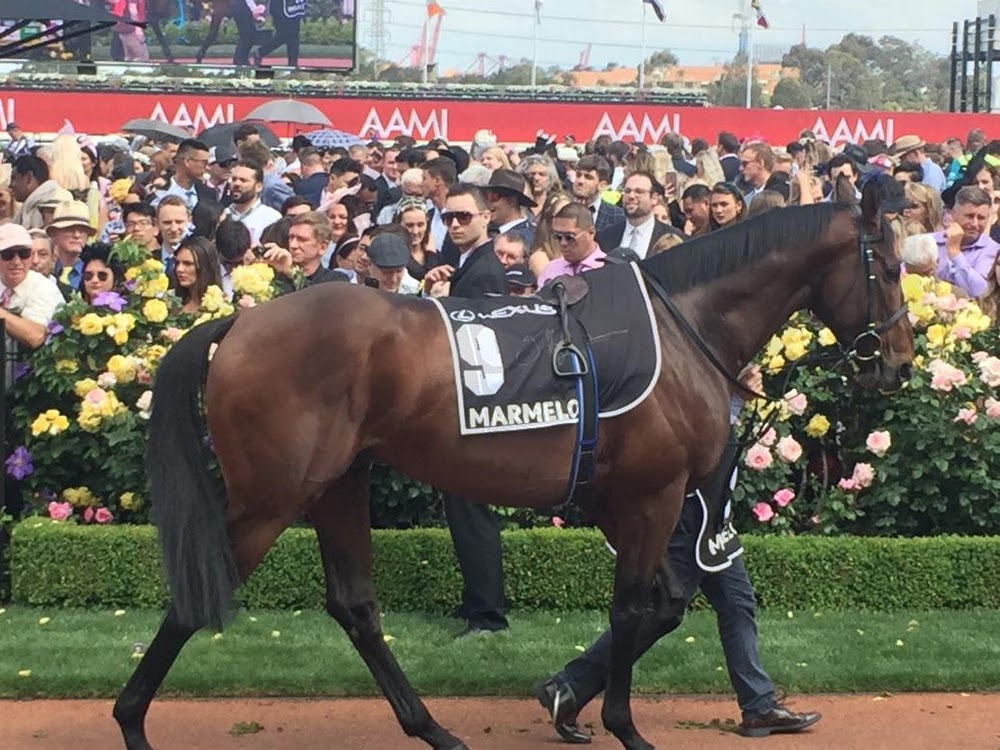 Marmelo was on his toes a little to start with, but soon settled to walk round in his normal relaxed manner, looking better than I'd ever seen him look before (but of course I am biased).
We followed the horses through the tunnel into the main paddock, which by this time was buzzing: the stands were packed, ablaze with colourful hats and extravagant outfits; yellow roses everywhere lining the railings as far as you could see.
The 24 runners were all in the paddock now and the tension was rising. Soon the jockeys appeared, Hugh Bowman looking pale and serious, eyes narrowed - determined.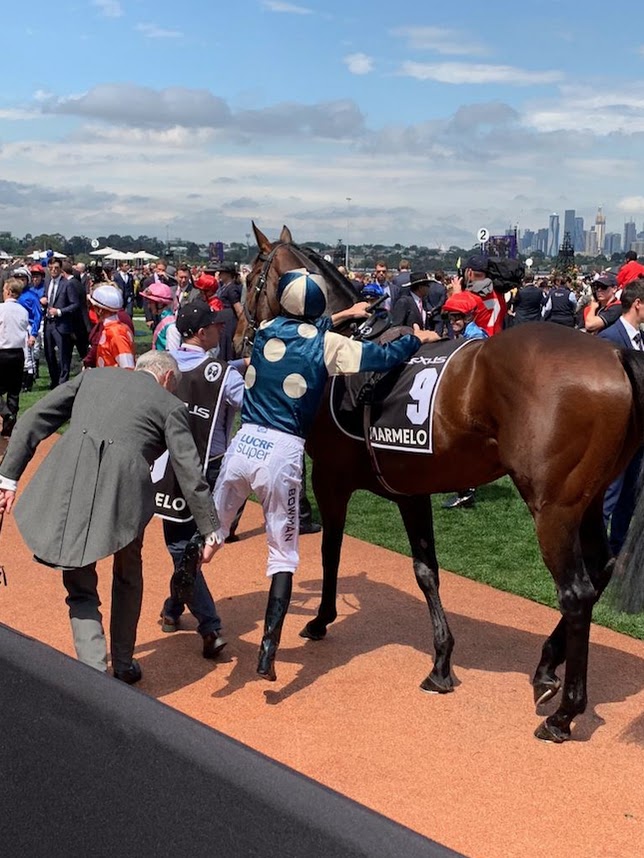 Marmelo looks imperious; his wonderful long striding cheetah walk. His neck arched. He knows he is impressive looking. Hughie jocked up Hugh, who once he was aboard apparently looked down at the horse and muttered to Tom, "Just LOOK at him!"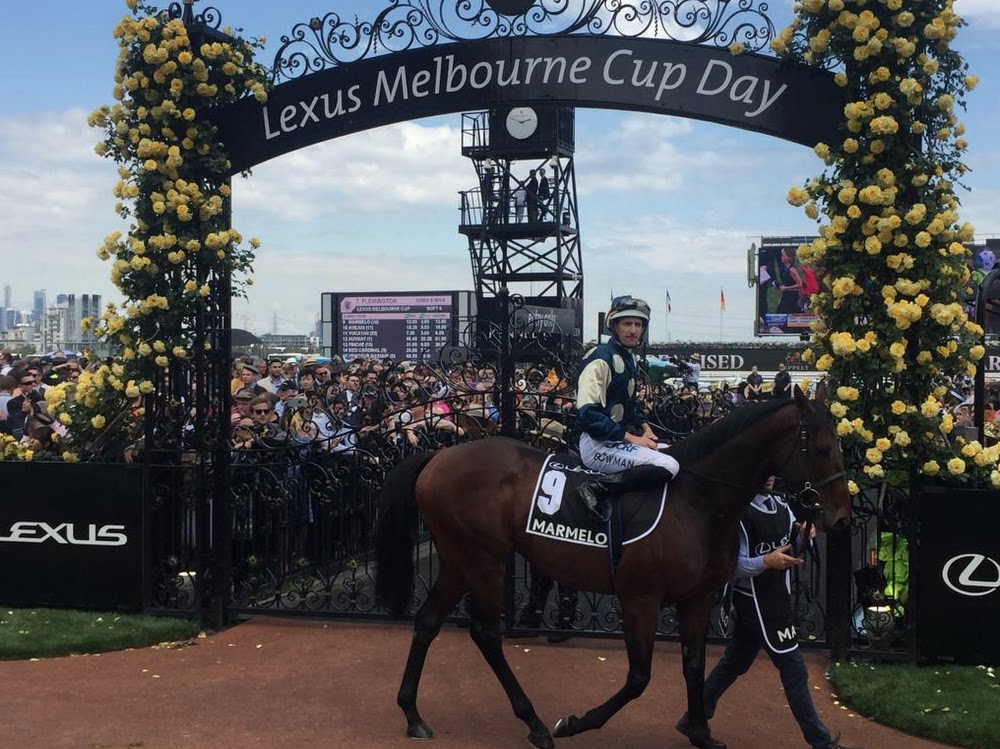 The runners all disappeared under the rose-covered archway onto the track. Tom let him loose and we made our way up into the stands above the paddock, feeling indescribably worried and nervous, thinking all we wanted was for him to get round safe and sound.
Marmelo allocated barrier number 10, which wasn't a bad draw but he was having to wait rather a long time I thought, but suddenly a great roar went up as the gates opened and they all burst out of the stalls…
We could see that Marmelo and his neighbouring 'friend' Avilius in the next stall were bumping each other as they came out.
Marmelo obviously taking exception to this lunged at Avilius trying to bite him as they were galloping along. Bowman managed to pull his head round but both horses did lose a bit of ground early on and Marmelo was cantering around third from the back for a long way, which in hindsight wasn't a bad thing as he could settle there and relax, but the whole field appeared to be going at no more than 3 mile chase pace.
They continued going incredibly slowly and we thought 'that was it' ... he would never be able to get through the whole field and it would turn into a sprint.
Our spirits were sinking, but as the pace increased, we could see him trying to make his way forward. Bowman clearly thought the time had come at about 2 1/2 furlongs out, to get a move on if he was going to get through the wall of horses in front of him.
He must have put on a tremendous turn of foot, passing most of the field until we saw him just behind the leaders at about 1 1/2 f out, making steady progress, winding his way through them until he reached the front.
We simply couldn't believe he had got there and were hysterical with hope for a split second as he plugged on in the lead. Leading the field in the Melbourne Cup! He gave us all a tremendous thrill, but sadly soon to be caught in the final 50 yards by the well handicapped 3 yr old Cross Counter, to whom Marmelo was conceding 9lbs.
So Cross Counter, a Godolphin horse, ridden by Kerrin McEvoy was able to sail past and claim the victory of the 2018 Melbourne Cup.
We felt a mixture of emotions. Joy and pride in our wonderful horse's achievement of running so well, but sad for him as he had tried so hard but could not beat the 3 yr old carrying 9lbs less. But what an achievement to come second in the world's greatest handicap and winning Aus $1 million.
This picture below is Marmelo the morning after the big day, looking in pretty good nick.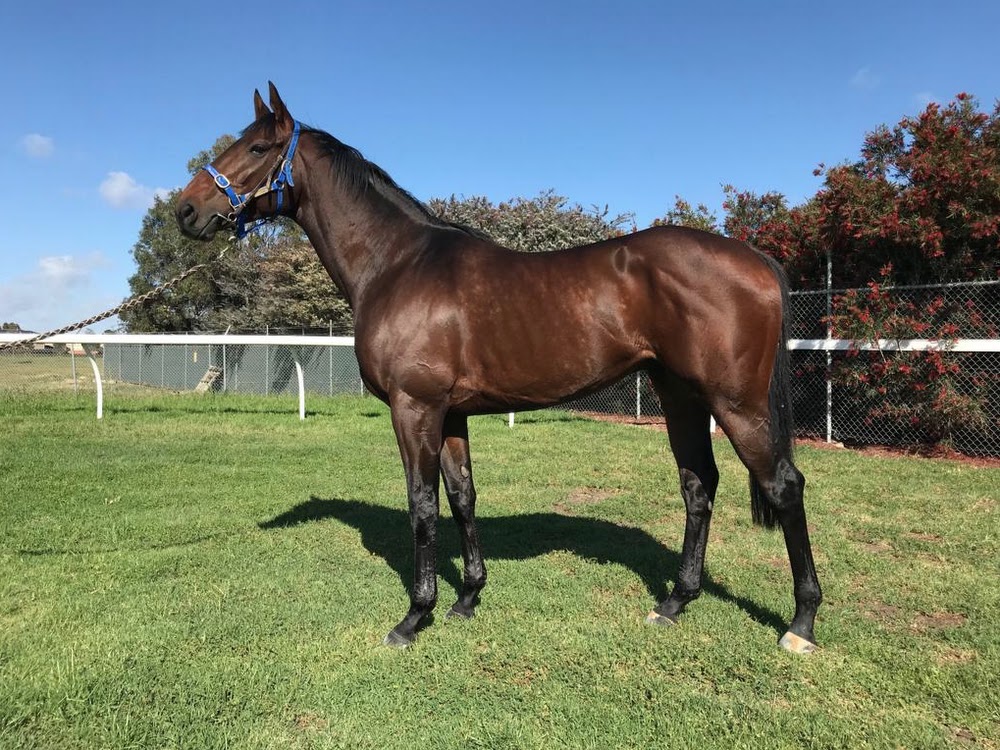 Everything had gone to plan. The draw had been good. The rain arrived to give him the softer ground he relishes. Marmelo had run above himself and will live to fight another day.
We are back home now and so is Marmelo, looking happy and relaxed. He got a huge welcome on his return.
Marmelo below, relaxing back at Summerdown.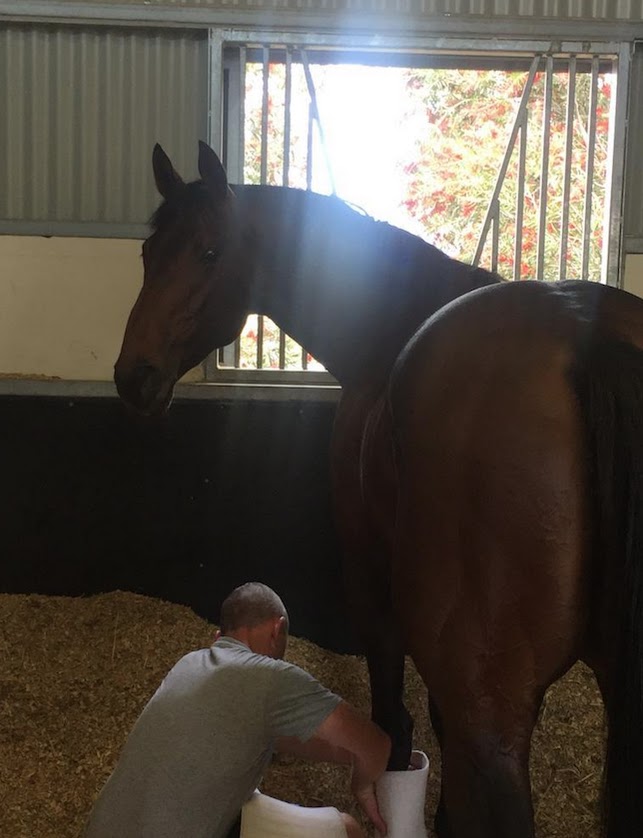 Grapevine is a trusted network of private members, linking kindred spirits from town or country. Members promote, sell or buy goods and services within the network.
Grapevine also believes in supporting young people to get a strong start through internships and work placements. We also help a number of charities including Heads Together and The Injured Jockeys Fund.