Grapevine interviews Emma Bridgewater
The Founder of all the wonderful crockery and cereamics many of us will have in our kitchen cupboards, tells us how she, at one stage was Begged to cease trading by her accountant!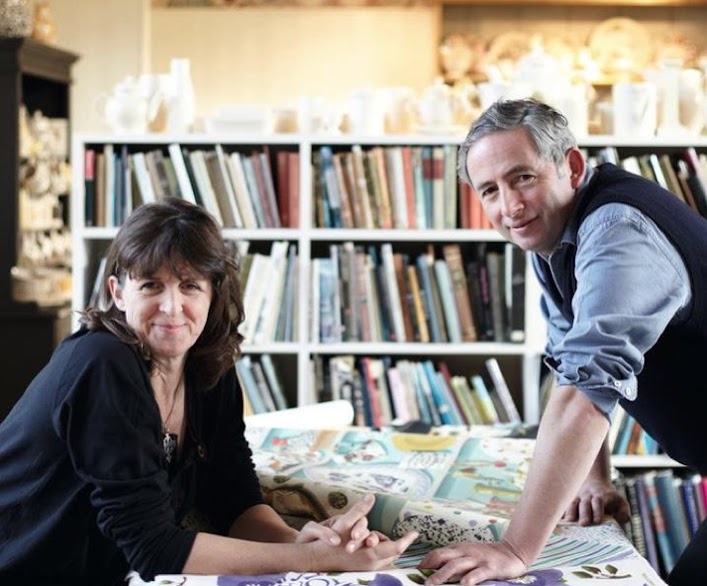 So Emma, how did your wonderful ceramics brand come about?
It was actually very straightforward; I left home and was looking for a business to start and it was Mum's birthday. I knew what I wanted to buy her – two cups and saucers because I thought it represented the closeness of our relationship well, from our frequent tea and chats around the table over the years. In short, I thought everything I looked at was outdated and impersonal; I had a hallucination right there on the spot and that's how the idea was born!
Needless to say, I had no idea how to go about it, so I pooled my business friends and resources and went from there. I had a great friend who'd just visited Stoke-on-Trent (historically the 'World Capital of Ceramics'). He put me in touch with a chap he'd met there who could advise me on how to go about the design and production process, so I went to see him immediately.
This leads me onto my next question, were you always artistic?
My Grandmother trained in Paris as a painter, so when we were growing up we always had sketch books to hand; however, as with all these things, that fell by the wayside as we grew up and 'life' got in the way – but, in short, I enjoyed creating art, but I never saw it as something I would end up doing as a business.
I did, however, inherit my father's dogged determination and attitude to business, which really helped me get my ideas off the ground, despite the fact that I had really no idea of what I was doing!
Stoke-on-Trent was a huge inspiration and driver in the building of the business; it had been shockingly abandoned and was hugely disconnected to London, which was teeming with people and lots of money – but the other marked difference between the two places was that Stoke had (and still does have) such a friendly and cohesive society which lent to a good working attitude and enabled employees to enjoy their work and take pride in what they do.
I feel very passionately about protecting our trade workforces and their working environment; I'm not keen on a corporate philosophy and putting profit before social duties. I strongly believe we all need to understand our capacity of 'political spending' so we really need to 'vote with our feet' in this area and support sustainable industries.
Have there been any major issues of note which you have encountered along the way with your business?
(Laughs) Anyone who has started a business from scratch will have most definitely been through the full kitbag of horrors! We've had a fire in the factory, dishonest employees and having to part ways with partners/associates to name a few.
This said, I do feel that even with the most traumatic events that there is the ability to turn them into positives. I believe that turbulence often creates change whether you want it or not – and that's how we grow in business and as people. Being able to adapt and move forward is crucial in both our work and personal lives.
My mother demonstrated this to me brilliantly when I when was younger and when my parents got divorced. She moved on and created a new life and was set on happiness – that lesson has been invaluable to me. Whilst we may be set various challenges, I think it's important to embrace change even if it means encountering tough times beforehand.
I also think that you shouldn't take too long to make decisions; make them with conviction and follow them through and make it work. As I said earlier on; I strongly believe that people should do something that they love – it makes it easier to get through tricky times if you believe in what you do and it makes you happy, even if others don't have the same amount of faith; in the early days my accountant pleaded to me:
"I can only BEG you to cease trading!"
I'm glad I didn't listen to them and forged on with what I wanted to do and had complete faith in it, despite the hurdles I was faced with!
On the back of that, do you have any advice you could offer any budding entrepreneurs who are looking to start their own business – with the benefit of hindsight?
Nothing that I haven't said before; don't do it to make money; do it because you're excited and passionate about it and you can stand up for it!
This way, even if it doesn't work out, you'll still feel that you've done something worthwhile and you've given it a good go.
How 'hands on' are you now in your business – are all the designs still done solely by you?
No, not entirely. I'm the Creative Director now, so I'm responsible for helping the business to grow. Matthew will continue to design for us for a while, which is great and there are six of us in the studio working on various areas of the business. As I am basically 'the brand', so for every new collection I write a manifesto so we all know what it is about and where we are heading as a team for the current season and the next; we need to work a year ahead because further along the production line, there are lots more people involved so we need to be very organised and efficient.
What would you say has been your best seller in terms of design and illustration over the years?
Hearts, Black Toast with Marmalade and Polka Dots I think – we have also done a lot of bird designs which always prove to be very popular, as well as the flower collections such as Wallflower, Poppies and Dandelions. It's actually more colour schemes which run through the patterns we choose.
How has CV-19 affected your business?
Well, our website has been increasingly vital for us to keep going and making sales. We've just really had to adapt to pretty much all online business. Luckily our wholesale customers are now returning because places have begun to open up again after the pandemic, which is great and thankfully our loyal retail customers, who normally buy from our shops, have turned to us online.
It's an interesting time for homeware products – people have spent such a long time at home that they've had the chance to reassess what they want and upgrade certain items so that they can really appreciate what they have there. With no eating out, a lot of people have rediscovered what their saucepans and cookware are for!
Can you briefly talk us through what is involved in the design and production process from start to finish?
As I mentioned earlier, we work a year ahead, I produce a 'story'/manifesto for the proposed collection; we then 'story board' that with various pictures and photos. From these I pick out the ones which I think put across the 'mood design' that we'd like to create.
From there, I'll go to various people to see what they think, so that the idea and design develops and grows. After this we approach the factory studio and work out ways in which we can do the pattern and put together suggestions which I can approve (or not) to go into production. At this stage, our marketing department will take pictures of the collection pieces for our website and online catalogues.
We try and keep the vibe of our collections seasonal; we have just launched our new Blackberry collection to mark the approach of autumn. We hope that they give a homely air – think warm, homemade blackberry and apple crumble!
When we're 'getting it right' I'd say we're echoing the same relationship with our customers as I was having with my Mum that day I walked into that ceramic shop where this all started – creating personal items which reflect a sense of family and closeness; not just items of functionality.
Emma, you're a very creative family – with you doing what you do, Nell (who created Giffords Circus) and Clover (Stroud), who writes brilliantly. Where do you think that all came from?
(Laughs) I think that Mum would say that it definitely doesn't come from her! She worked very hard and was a 'doer' but was equally happy spending the afternoon watching the racing and dozing on the sofa. I think she'd be appalled at how active we've all been!
I never really realised it, but both Nell and I were similar in that we saw the things that we loved 'disappearing down the plug-hole'; for her it was the art of the circus and for me, it was the ceramics industry, and in response we both ripped them back out and brought them back to life! I think there is also an underdog/lost-cause factor which also appealed to us; a sense of nostalgia I suppose.
I also think that when I started out, I thought I was being terribly original ending up in Stoke doing ceramics – but actually, you don't have to look too far back into my family history to see that my grandfathers were also heavily involved in 'industry', so I can't help thinking I was just following my genetic history really.
On the subject of Nell; what legacy do you think that she has left behind?
The magic of theatre is that you can't keep it! Nell said that they would always be a travelling show – there is a certain magic about them arriving in the middle of the night and setting up, doing the shows and then leaving again under the radar; with almost no trace of them ever being there because they always tidied up thoroughly after themselves. It was almost as if they were a figment of your imagination!
Nell's attention to detail was second to none; the shows choreography and story line, the beautiful clothes, the music and the interesting people and animal acts; they all made the whole thing completely magical – and Nell gave that feeling to every one of us that had been to visit Giffords; she was a truly remarkable person.
Grapevine is a trusted network of private members, linking kindred spirits from town or country. Members promote, sell or buy goods and services within the network.
Grapevine also believes in supporting young people to get a strong start through internships and work placements. We also help a number of charities including Heads Together and The Injured Jockeys Fund.