The man behind the Mike
Ahead of Badminton this week, Jane Wallace gives Grapevine members an exclusive piece on the legend who was Mike Tucker. "The Man behind the Mike' is available to buy via the link below; it would make a great book for anyone - I can assure you it's not short of good stories and laughs! Phil McCallion at The Equestrian Bookshop will also have signed copies for sale at Badminton (by Jane and Angela Tucker) and it has a 5* ranking on Amazon.
THE MAN BEHIND THE MIKE
A short insight into the background behind the biography of famous equestrian commentator Mike Tucker, told to us by Jane Wallace; former international three-day event rider and long-term friend of the family.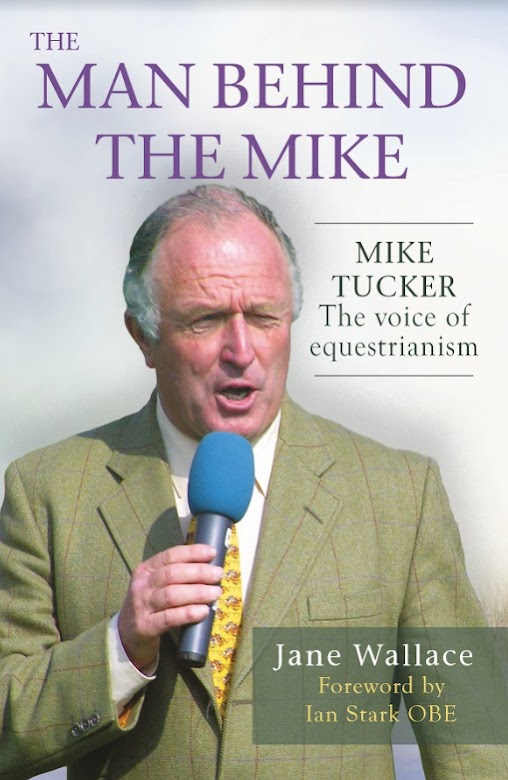 It was over thirty years ago when I asked Mike if he would walk the course with me at Badminton as a first-timer in 1986. I had decided that, with his many years' association with the famous horse trials as both rider and commentator, there could be no one more experienced to impart knowledge and advice. Not only was Mike helpful and informative, he was also friendly and fun. He and his wife Angela have remained firm friends ever since.
The seeds of an idea for this book were sown at our dinner table during Burghley Horse Trials in 2015. At the time, Mike was contemplating his retirement as commentator from the BBC and he was regaling us with tales of a bygone era in the sport. It was after a series of particularly interesting reminiscences that our guests said in unison, 'You really should write a book …' and that was the beginning. The following year, after due consideration, Mike decided that he would indeed like to record his memoirs and asked me to help. I was honoured, flattered and indeed privileged that I was to be part of what proved to be an enlightening trip down memory lane.
The format that we decided upon for the book was that Mike would record his own memories into voice recognition software and, from the information provided, I would produce the overall narrative, liberally interspersed with his own verbatim recollections and anecdotes, which we would indicate by presenting them in displayed form. That was all proceeding swimmingly (we were 'kicking on', as Mike would have said) when I received the shocking news that Mike had died suddenly. In the aftermath, it quickly became apparent that there was a groundswell of support from Mike's family, friends, fellow competitors, former work colleagues – in fact from many people who had known him in various walks of life – to complete the biography as a tribute to a much-loved character. Accordingly, I am delighted to say that the latter part of this book has been completed thanks to the many contributions from which it has been possible to present the story of Mike's life from the time of his retirement from competitive eventing onwards.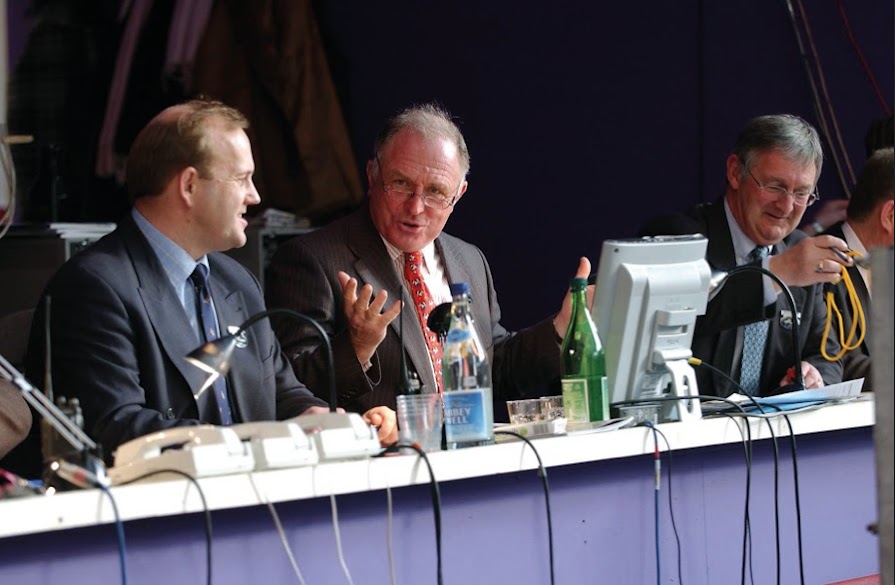 Mike with Nick Brooks-Ward in the commentary box at Olympia. [Courtesy of Kit Houghton]
Mike Tucker was born into a life of farming and horses. His passion and hard work enabled him to progress from international groom to successful international event rider, top-level eventing official and television commentator. The pinnacle of Mike's career as a commentator was covering Nick Skelton's gold medal at the Rio Olympics in 2016 for the BBC.
Mike: 'As a small boy, there was little doubt where my heart lay at that time. I was always out and about on the farm watching the cows tied up in the barn, inspecting the calves and watching the milking and the milk being brought up to the dairy. I loved the magnificent power of the heavy horses, not as many as there once were because the use of tractors was beginning to make an impact.'
In 1949, when Mike was five years old, there was an important introduction of a competition that was to have a big impact on him. At that stage of his life, there were still no ponies and actually no interest either. In 1948, London had hosted the Olympics and there had been a disappointing result for Britain in the eventing competition, particularly on the cross-country phase, held at Tweseldown. In those days, three-day eventing was practised more on the Continent than in Britain, and was known as 'the Military', since it had its origins as a military sport and invariably involved military participants.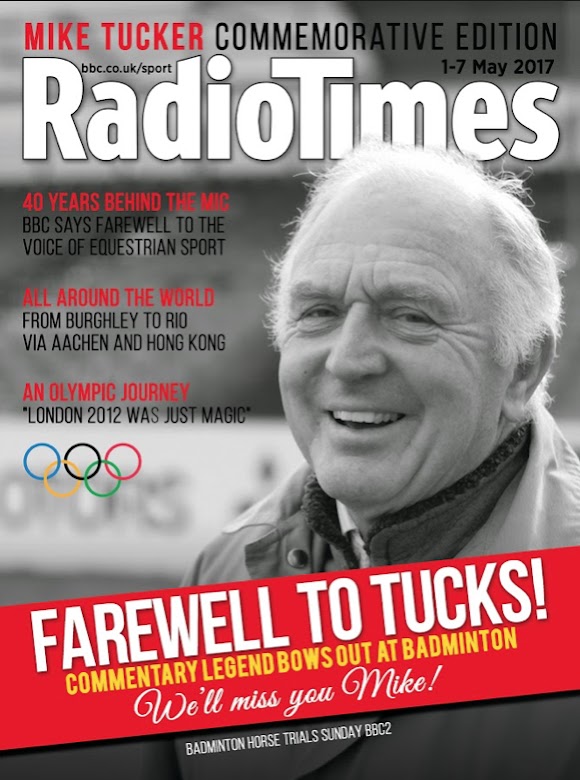 (Radio Times: The BBC's director of sport, Barbara Slater, who produced Badminton herself for a few years, came up with the idea of getting a special front page of the Radio Times made and framed, paying tribute to Mike. It was a lovely idea and Liz Thorburn, his BBC producer in Rio and at so many other events, made a great job of having it designed and produced.)
In response to the poor showing by Britain, the 10th Duke of Beaufort, known as Master, offered his estate as a venue for an event similar to the Olympic one, the aim being to help improve the performance of the British horses and riders. The Duke, who was a great all- round sportsman and a most impressive, upright man, summoned Colonel Gordon Cox Cox and Colonel Trevor Horn to help organise and direct a three-day event in Badminton Park.
All the phases would fit into the park superbly. The dressage would be on the lawn, right in front of Badminton House; the speed and endurance course would weave its way around the magnificent park and through famous woods such as Allengrove and The Verge, and the lake could be used to full effect. The final day's showjumping would be in a roped arena up by Badminton Lake. Grandfather Jones was soon to be heavily involved. The planned cross-country course, more than four miles long, went around the park through the woods and then came to an old quarry right at the back of Grandfather's buildings at Castle Barn. This was cleared out and it became one of the fearsome sequences of fences on the cross- country course that was to be a feature phase of this multi-discipline competition. The Quarry was the first big feature fence on that very first course and Grampie Jones was asked to provide wagons with straw bales for The Duke's special guests to sit upon so they could watch and enjoy the spectacle and excitement that was expected there. There certainly was to be plenty of action!
The Duke of Beaufort was 'Master of the Horse', a royal appointment to oversee the royal family's extensive stable of horses. One aspect of that role was to ride alongside any coach or horse that the monarch was riding in or on. As a result, the Duke and Duchess had a very strong connection with all members of the royal family over many years. Since the royal family had a passionate interest in horses they were invited to join the Badminton house party to watch this exciting new competition.
Mike: 'I had never before seen the royal family in real life and so with a wagon for Grandfather Jones's family nearby, we had a wonderful view of the royal party watching the thrills and spills, of which there were many, at this spectacular new fence. Although I found the rules complicated, I was mightily impressed and really enjoyed the action of some of the riders falling off, remounting and carrying on again!'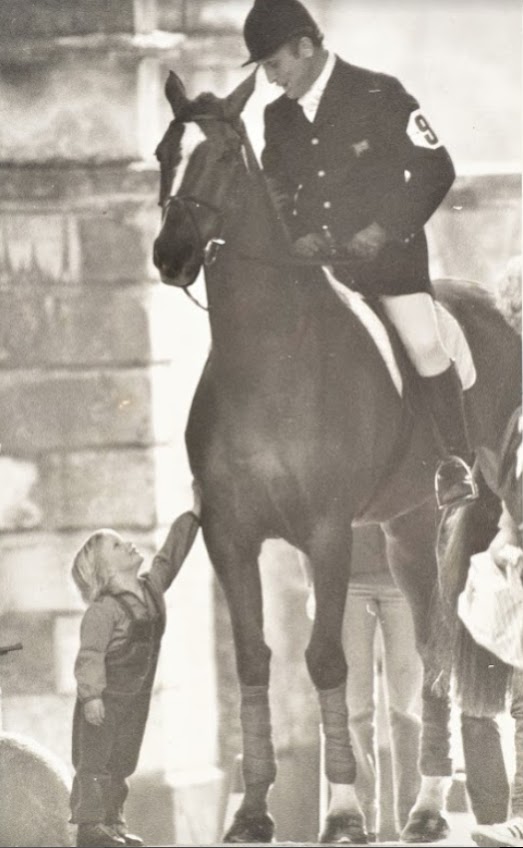 A small royal fan of General Bugle – a very young Zara Phillips. [Photographer: Srdja Djukanovic]
Michael Cole (a BBC producer who joined Mike and the team in 2003): 'Through the years working with Mike, I also came to realise how appreciated he was by the BBC audience. Many commentators get to work for BBC Sport, but very few of them become the voice of their sport. Tucks was undoubtedly the voice of equestrian sport. He worked hard to make sure that his commentary was accessible for the wider audience that comes to BBC for its sport coverage. It's a tricky balance to deliver commentary that opens the sport up to the general viewer but doesn't patronise the expert audience. 'Mike decided to put down his BBC microphone for the final time at Badminton in 2017. Of all the events he worked on, it was the closest to him – personally as well as geographically. The "local gymkhana" as he often called it. The BBC and everyone who worked with Mike were determined to make a bit of a fuss of him. Needless to say, that meant he had quite a lot of people queuing up to say thanks to him. 'Paying tribute to Tucks on air was relatively straightforward. Clare Balding recorded a lovely interview with Mike and we dredged the archive for pictures of him in his competitive prime – on General Bugle coming second behind Lucinda at Badminton. The reaction from the viewers was tremendous. Their messages made it clear that they were sorry to see him go.'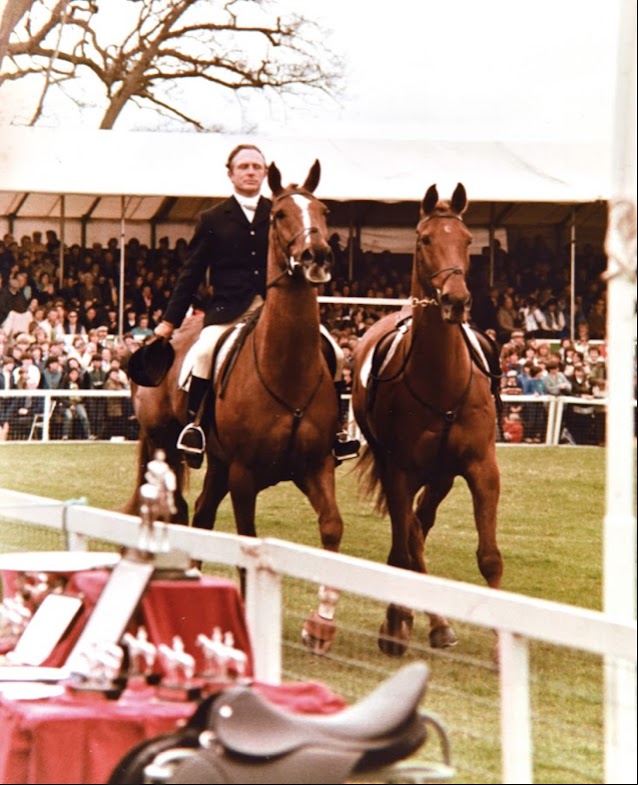 A proud moment – Badminton 1983, Mike seventh on Dalwhinnie and second on General Bugle.
In 'The Man Behind the Mike' we learn about Mike's family history and the connection with the Badminton Estate where his grandfather farmed; The Beaufort Pony Club, a huge influence in his life with many top level riders being members; a visit to Australia, staying with the Roycroft family, which proved to be a pivotal moment in his efforts to become a successful event rider; and about Mike's second place at Badminton, which laid the foundations of his credibility as a rider and commentator. The 'voice behind the microphone' had the experience and knowledge to commentate with authority and to command respect from the listening public at horse trials, dressage, showjumping and cross-country shows throughout the UK and beyond.
Grapevine is a trusted network of private members, linking kindred spirits from town or country. Members promote, sell or buy goods and services within the network.
Grapevine also believes in supporting young people to get a strong start through internships and work placements. We also help a number of charities including Heads Together and The Injured Jockeys Fund.