Grapevine morning on the gallops with Kim Bailey
We arranged for 12 members to pay a visit to top National Hunt trainer and Grapevine Ambassador, Kim Bailey. We had a guided tour of the yard and his stable stars, watching them work on the gallops, followed by a delicious cooked breakfast afterwards.
Grapevine morning on the gallops with Kim Bailey
We had a great morning with Kim Bailey recently where 12 Grapevine members were invited to Kim's yard in Gloucestershire and given a tour of his stables, meet some of his horses and stable stars including Vindication and recent winner of a nice novice chase at Warwick, (third win on the bounce), Two for Gold.

Kim told us about some of his horses and their plans for the rest of this season and their form. We then set off to the top of his gallops ready to watch them work - it was a lovely walk with a good hill to blow away any morning cobwebs!
We were very lucky with the weather, although it wasn't sunny, it was pretty kind to us. The view from Kim's gallops is pretty breathtaking, I'd say it has the best view of the Cotswolds. It was a pity the visibility wasn't 100% perfect on this particular morning as it really is a sight to behold.
We watched and waited for the horses to come into view, that sound of them blowing as they come up the gallops is something that needs to be bottled up and saved - it really is a special thing to hear.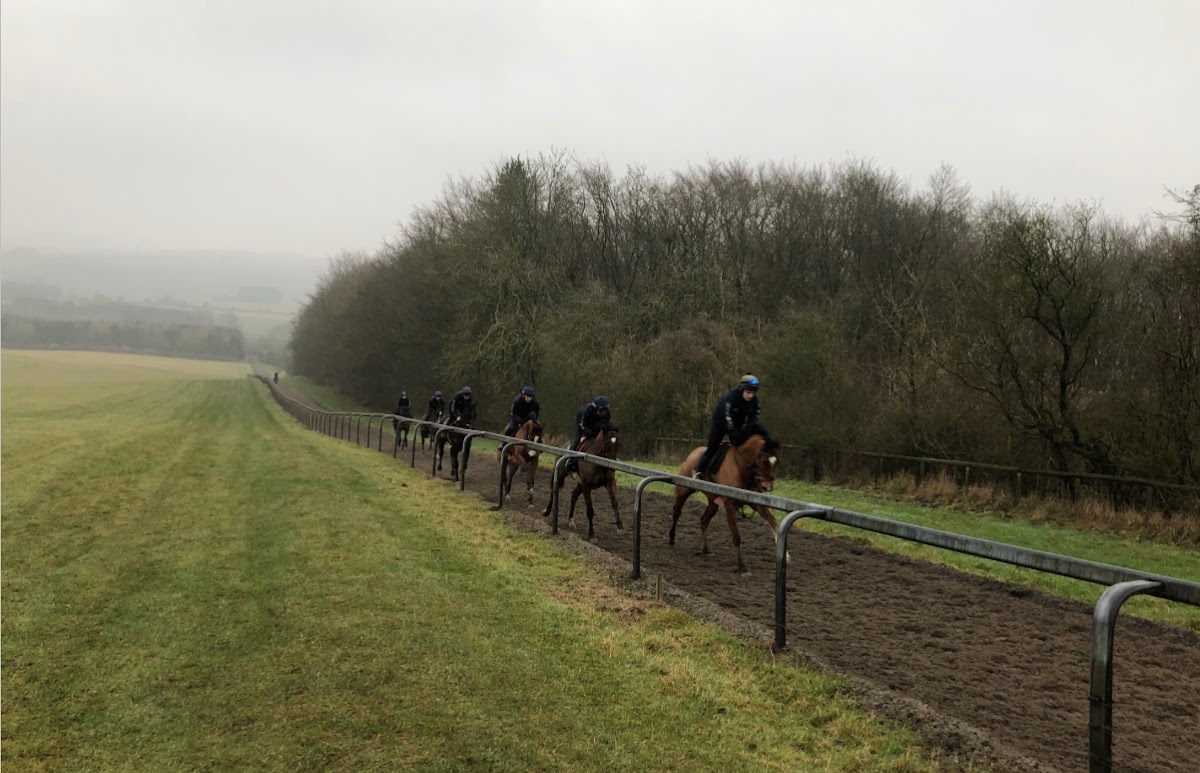 Kim gave us a running commentary of each horse who was passing us. As some of us will know in this game, things can and do go wrong on occasions and a riderless horse came past us with the others, doing his job but without his jockey who had been decanted at the bottom of the gallops! All was well and the horse was caught at the top and the poor girl was unharmed, apart form her pride, but it happens to the best of them.

Kim told us about the runner he had at Cheltenham later on that day, who he very much hoped would run well and did, coming 2nd - this was good news for the yard.
It was then for the walk back to the office where we were very spoilt and given tea and coffee and a delicious cooked breakfast.

There was great chatter and it was altogether a really great morning and I think everyone really enjoyed it.
I mentioned to everyone that I am considering creating a Grapevine Syndicate for any members who think they might like to be involved in a horse with Kim.
In my view, there is no better National Hunt trainer to have a horse with than Kim. He is incredibly experienced, has won all the big races any trainer wants to win, is enormous fun to be with, looks after his owners impeccably and most of all, really loves his horses.
So, I will keep everyone posted but if you think you might be interested in being involved in a Grapevine Syndicate at a very affordable price in the future, please email me back registering your interest, as there will be a limited number of spaces.
Grapevine is a trusted network of private members, linking kindred spirits from town or country. Members promote, sell or buy goods and services within the network.
Grapevine also believes in supporting young people to get a strong start through internships and work placements. We also help a number of charities including Heads Together and The Injured Jockeys Fund.