Tristan Voorspuy and elephants
Adrian Dangar talks about his biography, 'Life on the Edge', he wrote about Tristan Voorspuy's fatal love of Africa
Tristan Voorspuy and elephants
Tristan Voorspuy, who was the subject of my recent biography, Life on the Edge, was an adventurer, acclaimed gold medal safari guide, conservationist and a man who lived every day as if he were his last. Tristan established his reputation for excellence during more than 30 years as a safari guide in Kenya where his Offbeat Riding Safaris became a magnet for the "up close and personal" kind of client; being charged by elephants, swimming across the crocodile infested Mara River and racing upsides herds of galloping giraffe were guaranteed experiences on any ride that he was leading. But Tristan also had a serious side, and a heartfelt desire to put something back into the Africa that was his love, workplace and playground.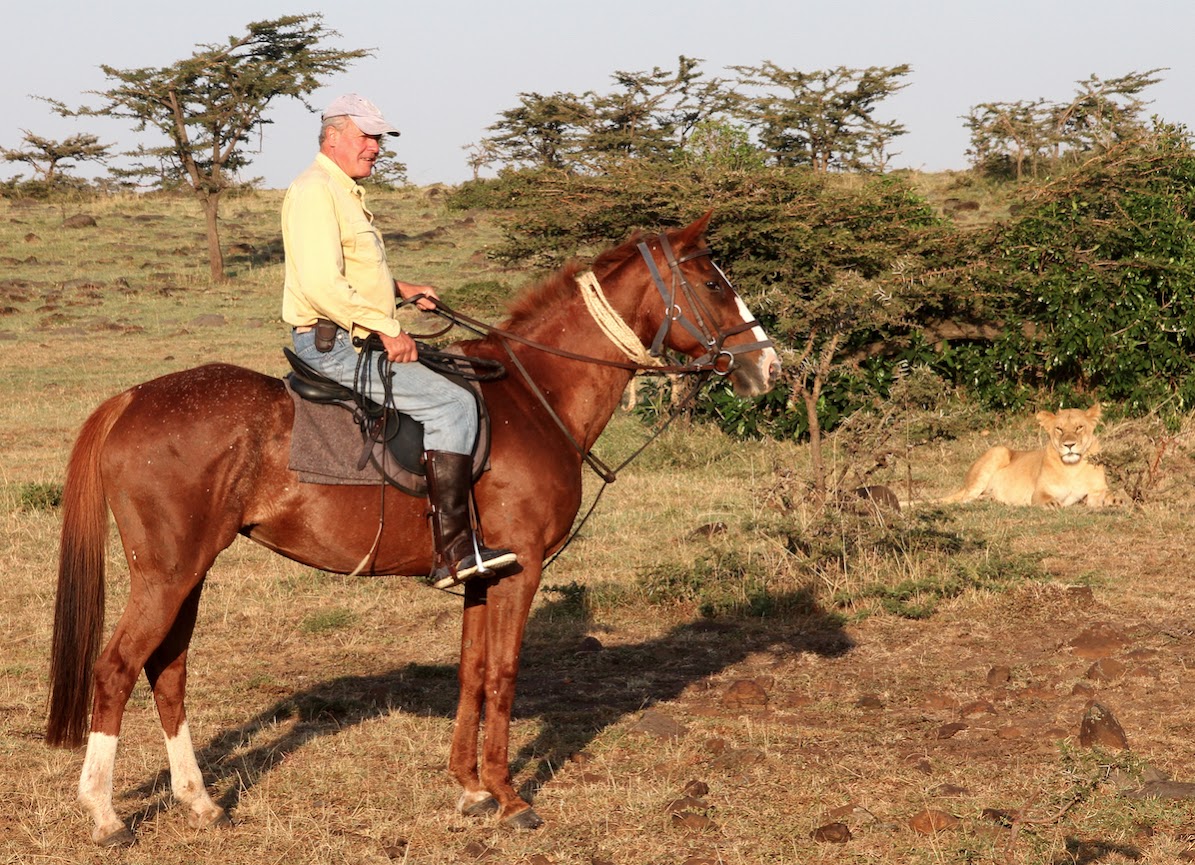 Tristan lived his entire life cheek by jowl with nature, but elephants held a special place in his heart. He first met them in the wild during his inaugural visit to Kenya in 1974 when a group of the giant pachyderms strolled nonchalantly through the campsite he was staying at near Marsabit. The encounter took place only a few weeks after the famous tusker, Ahmed, had been discovered dead by the armed guards appointed by presidential decree to protect him. During his epic motorbike ride from Sussex to Cape Town in 1982 Tristan stayed with the extraordinary Hensman family who farmed at Braeside in Zimbabwe; he remained in close touch and returned years later to be shown how their domesticated elephants could be deployed to track poachers or robbers as effectively as any dog.
In 1985 – by now working as a professional guide – Tristan records elephants "very windy" in Meru National Park and on another visit finds a young calf limping with a bullet embedded in its leg. Ironically it was Meru that Tristan singled as the setting for his most memorable wildlife sighting of all. "I have seen many kills by large predators," he wrote, 'but my most lasting memory is of a family of twenty or so elephant frolicking and bathing in the Rofwero River in Meru National Park in 1986. They swam and splashed for half an hour or more, as if to say there may be no tomorrow. It was a tear-making experience." What the safari guide found so poignant was that this memorable and intimate encounter took place during a decade that saw the elephant population in Meru plummet from around 2000 head to just 250 traumatised individuals. It is most unlikely that any of the elephants Tristan saw that day are still alive, despite a seventy year life expectancy.
During the same time frame it has been estimated that a staggering 46,000 Kenyan elephant were slaughtered for their ivory. These losses were so great that in 1989, Daniel Arap Moi, the President of Kenya, publicly set light to a 12 ton ivory pyre that burnt for 3 days, but although CITES imposed a ban on ivory trade the following year the killing continues apace, and during the course of Tristan's lifetime a further 117 tons of Kenyan ivory were to be publicly incinerated.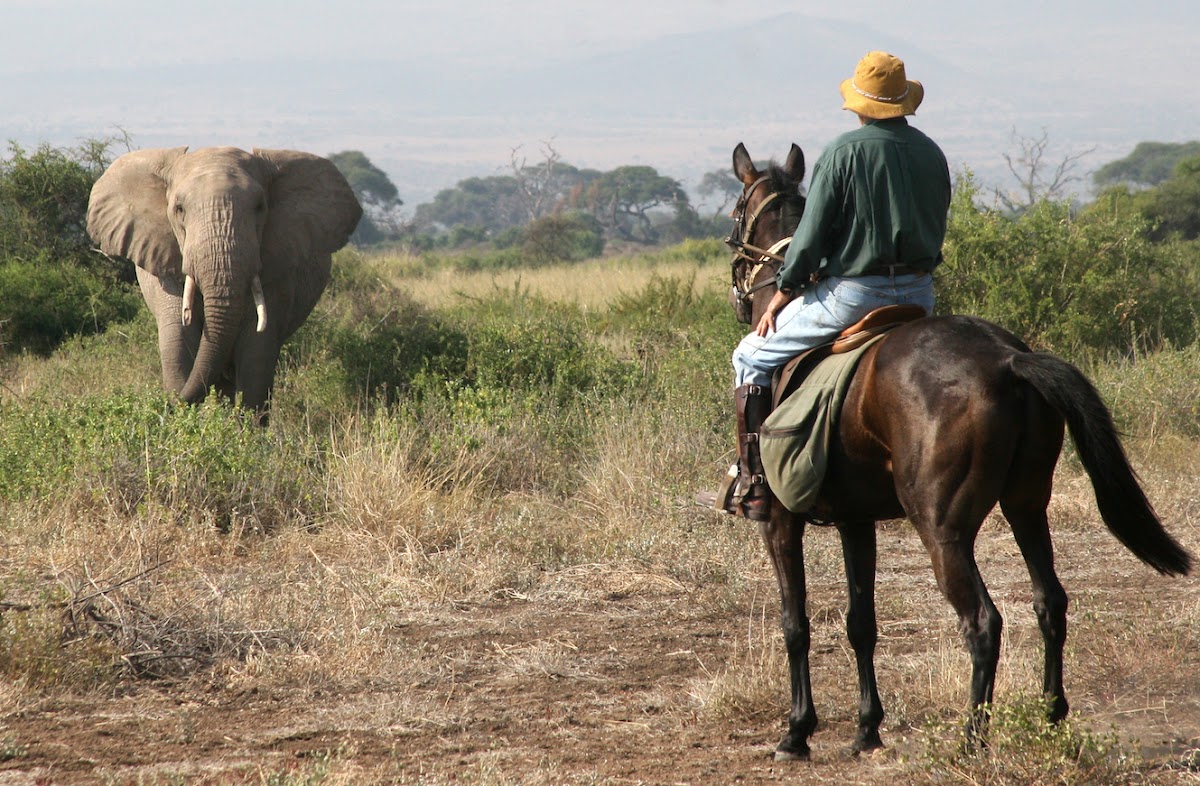 Tristan believed that the interests of Kenya and her wildlife were best served by securing a safe future for the habitat in which they roamed. After a few false starts, in 1999 he succeeded in putting together a consortium to buy Sosian, a 25,000 acre ranch in the Laikipia district of northern Kenya. Overstocked, run down and in the throes of a terrible drought, there did not seem to be much going for Sosian at the time, but long overdue rains and judicious management transformed the ranch into a stunning haven for wildlife. When the Hensmans and their elephants were forced to flee Zimbabwe from Mugabe's brutal regime in 2010, Tristan saw an opportunity to establish a similar enterprise at Sosian, but without the backing of east Africa's elephant guru, the late Daphne Sheldrick, his carefully considered proposals failed to get off the ground.
In 2016 Tristan confirmed in writing that elephants were his favourite animal and pointed out their similarities to the human race, whose lust for ivory was contributing to their downfall. Both species reach puberty at the same age, are family orientated and share similar life spans and have a tendency to destroy the environment in which they live – "but sadly, in that respect elephants always come second to man," he observed. Tristan held a deep seated conviction that a rapidly expanding human population posed the greatest threat of all; "mans' overpopulation of the planet is very much threatening elephants' long-term survival," he warned, "and extinction in their natural environment is possible this century."
Within six months of that chilling prediction Tristan himself was dead, gunned down whilst defending his Laikipian property from Pokot and Samburu invaders who had been politically incentivised to overrun Sosian and other privately owned ranches in the north. By extraordinary and eerie coincidence three bull elephants were seen at Deloraine, the Voorspuys family home ninety miles away on the western rim of the Great Rift Valley, the day before his murder. The young bulls arrived as refugees from Laikipia, where they were being ruthlessly persecuted by the invaders, after following long abandoned ancestral trails. Until that day, no one could remember seeing an elephant at Deloraine for decades.
Following Tristan's murder the Kenya Defence Force cleared invaders from Sosian and other illegally occupied ranches and, as is the way with Africa, sunshine and rain quickly combined to heal a scarred land. Without the daily threat of bullets and spears, elephants and other wildlife gradually returned to Sosian, and Tristan's son, Archie, continued his job of managing the adjacent Suyian ranch for Gilfrid Powys. Archie and his tough rancher boss enjoyed a close relationship based on mutual respect; it has been suggested that in the months following Tristan's death Gilfrid became something of a father figure to his hardworking young manager. But shortly after Christmas that year Gilfrid was run through the heart by an elephant's tusk and instantly killed. As Tristan would have pointed out, elephants, like humans, never forget.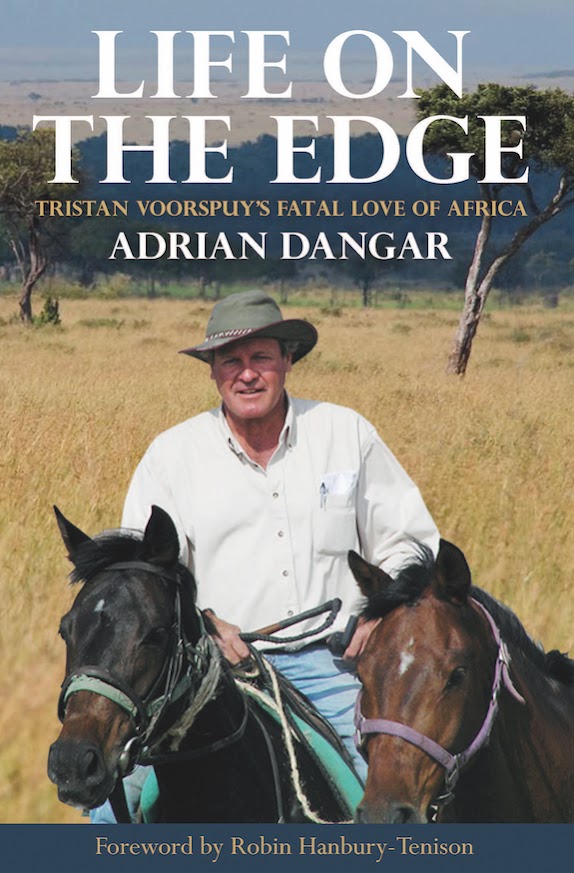 Signed copies of Life on the Edge are available from the author's website www.adriandangar.com or by emailing him direct at adrian.dangar@virgin.net
The publishers, Quiller Publishing, are making a donation from every copy sold to the Tristan Voorspuy Conservation Trust. One of the trust's objectives is to support charities that address birth control and over population in east Africa.
Grapevine is a trusted network of private members, linking kindred spirits from town or country. Members promote, sell or buy goods and services within the network.
Grapevine also believes in supporting young people to get a strong start through internships and work placements. We also help a number of charities including Heads Together and The Injured Jockeys Fund.