Simple, fresh summer dishes for you all to test out and enjoy!
Here are a few summer recipes to try now the weather has perked up! Sally is available for catering jobs both big and small and she is willing to travel. Please get in touch with her on the email at the bottom of this page. Fire up your barbecues and get cooking!
Yoghurt - marinated Barbecued Lamb - recipe for 6 people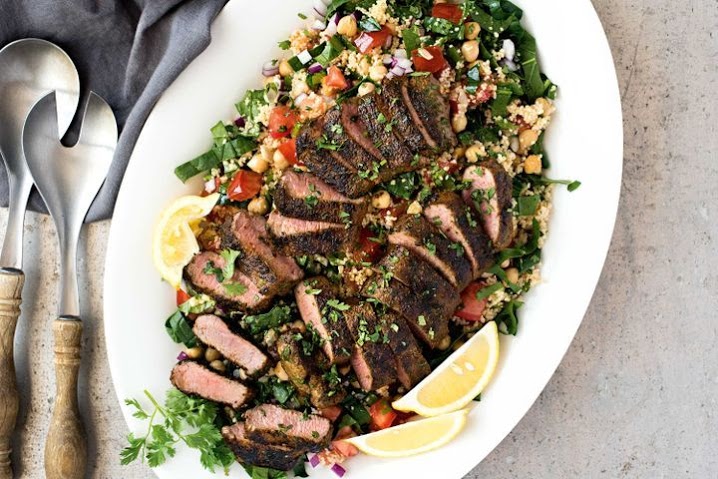 The best way to cook leg of lamb in the summer! You must start 2 days ahead though! I serve it with a spicy couscous salad and mint salsa verde, or mint jelly if you're short of time .
Ingredients
4 lb leg of lamb (boned)
For the spice mix
1 tsp cumin seeds, 1 tsp coriander seeds, 1 tsp black peppercorns, 2 cloves, 1 cinnamon stick, 6 garlic cloves.
Marinade
Juice of 3 limes, 450ml natural yoghurt, good slug olive oil
To serve...
Roasted veggies (whatever needs using - peppers, courgettes, onion), chickpeas, couscous - for something that looks really pretty, sprinkle with pomegranate and roughly chopped coriander.
METHOD
Two days before you want to cook the lamb, debone it and cut into three pieces following the seams of the skin and fat. Put the pieces into a plastic container and pour over the lime juice and salt and pepper and leave in the fridge for 2hrs.
The next day, whizz the spice mix (Nutribullet or similar will do the trick). Lightly toast these in a pan for 2-3mins and put in a bowl.
Get the lamb pieces (wipe any juices from the base) and mix the spices with the yoghurt and lay the mixture on the bottom of the plastic container and lie the lamb across the top and rub in the remaining mixture over the lamb. return it to the fridge for another 24hrs.
Get the meat out of the fridge 2 hrs before you're ready to cook it so it gets to room temperature; light the barbecue and leave for an hour so that it's a low, decent heat (no licking flames necessary or it'll be burnt on the outside and raw on the inside!!) It should need 7 mins either side and then remove to let it rest for 15mins.
Spiced Green Pea Dip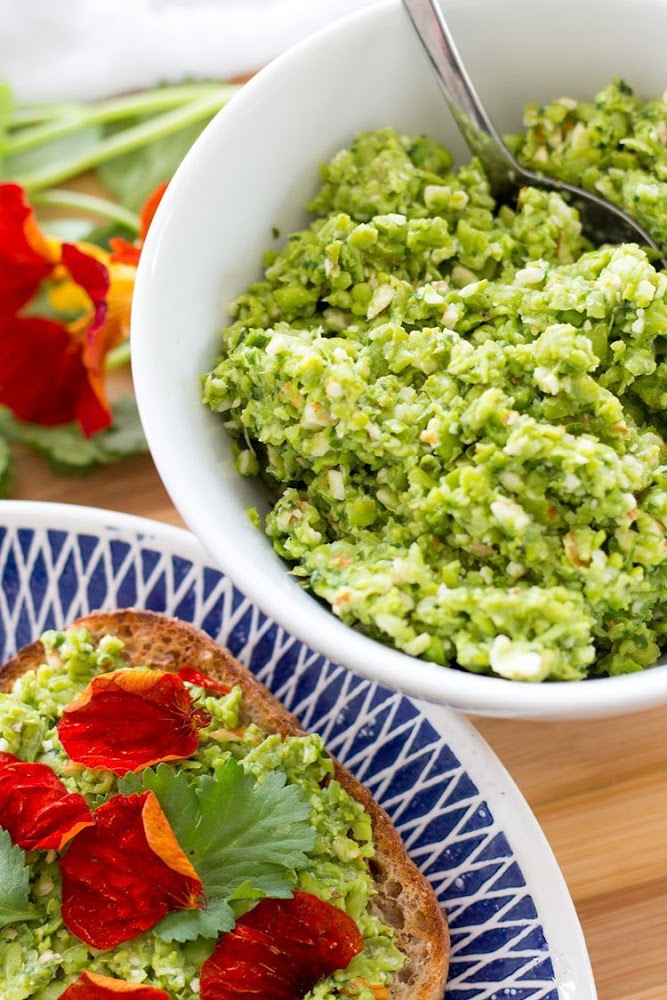 INGREDIENTS
300g frozen petis pois, 70ml olive oil,1 handful coriander, (roughly chopped), 1 crushed clove garlic, 1tsp ginger, finely grated, 2tbsp lime juice, 1/2 to 1 red chilli, (optional) 1/4 tsp salt.
METHOD
Blanch the petis pois - blitz all of the ingredients in a Nutribullet or similar and garnish with finely chopped red chilli and coriander.
This is such an easy, healthy, fresh dip - delicious with crudités or nachos. It is also yummy starter or breakfast on toast - it is a multifunctional recipe for everyone!
Simple Summer Salads!
Baby broad bean, fine bean and crispy bacon with fresh herbs and a French mustard dressing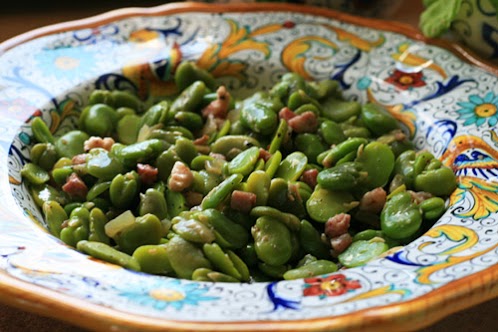 INGREDIENTS
1 packet fresh green beans
Double handful of frozen or fresh broad beans
1 packet free-range streaky bacon
Herbs - whatever you are growing preferably! Parsley, chives and/or tarragon
METHOD
Put the beans in boiling water for a couple of minutes, then cool quickly with cold water. Drain and toss in some fried or grilled crispy bacon and fresh herbs.
Green leaves with avocado, green beans, finely sliced raw fennel, artichoke hearts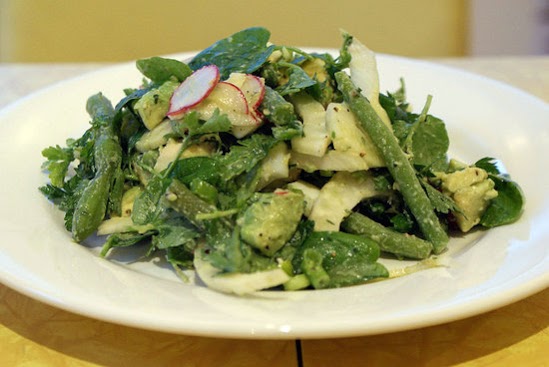 METHOD
Blanch the fine beans, finely slice the raw fennel, slice in half the artichokes (from a jar), lightly toast some sunflower seeds with a bit of salt and serve with a mustard French dressing.
Italian tomato salad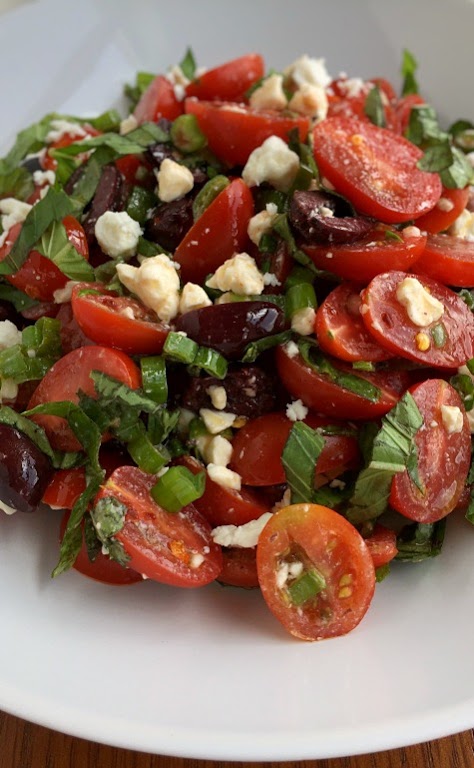 METHOD
Best ripe tomatoes, chopped, basil leaves torn roughly, sun dried tomatoes, black olives and feta cheese chopped into cubes black pepper and olive oil to dress. It's also good with a bit of crispy bacon or pancetta if you have some in the fridge to use!
Whole Roasted Cauliflower with Harissa Paste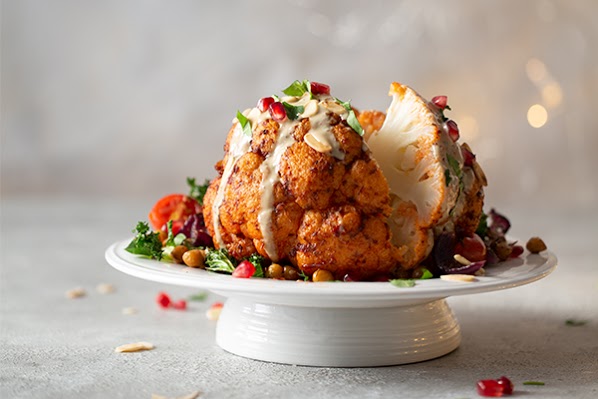 Something else is yummy is a whole roasted cauliflower with Harissa paste smeared on top with some olive oil, salt and pepper. It takes 45 minutes in 200 degree oven. Cut it like cake and serve it warm. this is a very handy (and cheap!) side dish but also great if there are any vegetarians amongst you all!
Mango Passion Pud
This is so easy, but still a great favourite! You could use raspberries and blueberries with raspberry coulis as a base!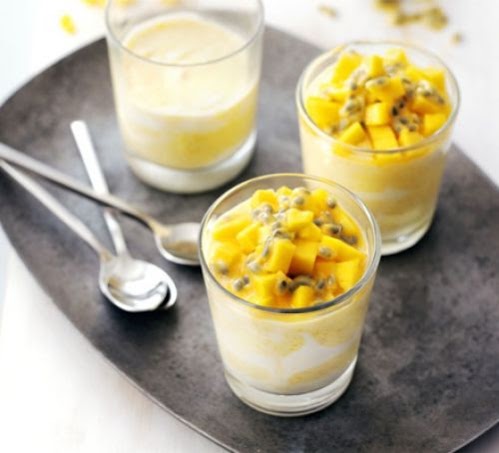 INGREDIENTS
2 large, ripe mangoes
5 ripe passion fruits
1 x 500g carton Greek yoghurt
250ml double cream
75g light muscavado sugar
METHOD
Slice the flesh of the mangoes from each side of the stones. remove the peel and cut the flesh into cubes.
Using a teaspoon, scoop the seeds and flesh from the passion fruit into a bowl and mix with the yoghurt and softly whipped cream.
Divide into glasses and place equal amounts of mango in each and cover with the passion fruit/yoghurt mixture. You can chill these for up t 8 hurt so ideal to do in advance! Sprinkle with the muscavado sugar before serving.
Tunisian Almond and Orange Cake
It's definitely worth making the syrup, it's yummy, and can be made ahead (but best the day you want to eat it!) so that you have it at room temperature, really good with vanilla ice cream.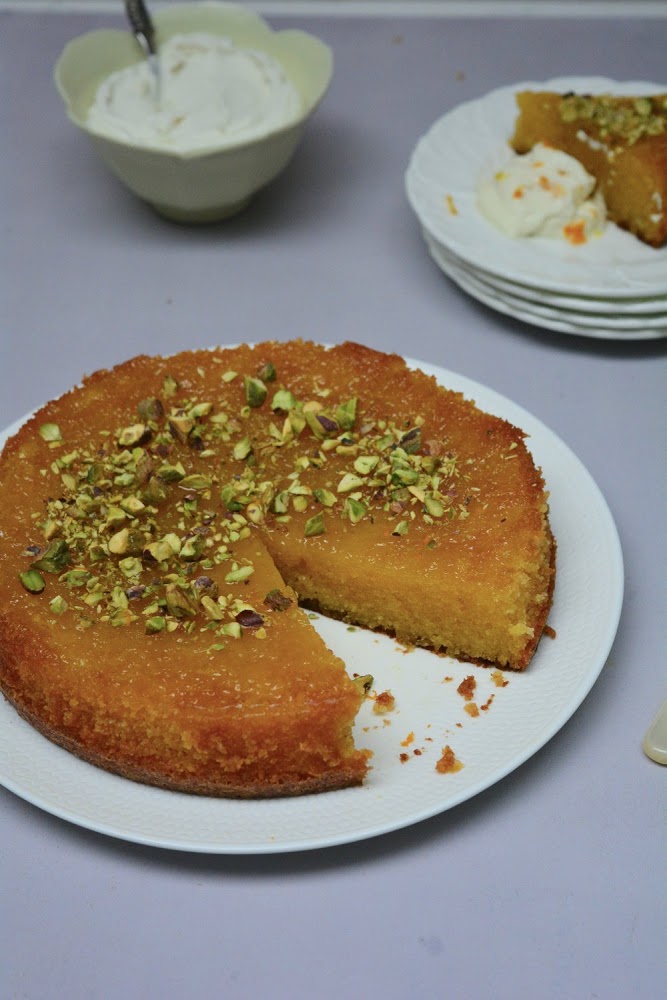 For the cake
45g stale bread crumbs
100g ground almonds (almond flour)
200g granulated sugar
1 and ½ tsp baking powder
200 ml sunflower or vegetable oil
4 eggs
grated zest of 1 large orange
grated zest of 1 lemon
For the syrup
85g sugar (or less if you prefer)
juice of 1 orange
juice of ½ lemon
2 cloves (optional)
1 cinnamon stick (optional)
METHOD
Prepare a 20cm/9in round cake pan by lining bottom and sides with parchment paper (siliconized paper).
Mix the bread crumbs with the almonds, sugar and baking powder. Add the oil and eggs and beat well. Stir in the orange and lemon zest. Pour in the pan put into a COLD oven. Turn oven ON and set the heat to 190°C/ 375°F. Bake for 40-50 minutes until the cake is a rich brown on top and a skewer inserted into the centre comes out clean (this will depend on your oven gas or electric but start with 40 min see if you smell any burning or if it is dry).
While the cake is baking, make the syrup by putting all the ingredients into a pan, bring them gently to a boil, stirring until the sugar has dissolved. Simmer for 3 minutes. (you need to reduce the volume to about half the original amount otherwise the cake would get too soggy). Strain it to remove chunks. Once is cake is baked, pull it out and let it cool for 5 minutes in the pan. It will dissociate from the parchment paper. Run a thin flat knife around the edge of the cake to make sure the paper is off. Remove the parchment paper lining the sides then turn the cake out onto a plate. Carefully peel the parchment off the bottom. Pierce holes in the warm cake with a skewer or toothpick and slowly spread the syrup over it until it is all soaked up. Let it sit until cool then loosely cover and place in the fridge overnight to allow it to soak the juice well. Bon appétit!
Sally is available for private catering jobs both large and small and although is based in Gloucs/north Wilts she is more than happy to travel. To get in touch with her, please email her at sallyarmstrong07@btinternet.com.
Grapevine is a trusted network of private members, linking kindred spirits from town or country. Members promote, sell or buy goods and services within the network.
Grapevine also believes in supporting young people to get a strong start through internships and work placements. We also help a number of charities including Heads Together and The Injured Jockeys Fund.