Here are a few of our Grapevine Ambassadors favourite 'summery' recipes to read and reproduce!
Four of our Ambassadors have sent through their most delicious summer recipes to share with members - perfect inspiration to get your taste buds going.
William Sitwell - Crab Linguine - Recipe, stolen and adapted from my wife, Emily.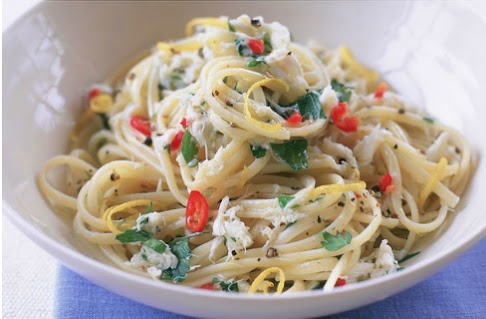 Here's my ultra-summery crab linguine.
It's very quick and easy to make but like all these things the quality of the ingredients are the difference between pedestrian and sublime.
So buy good fresh crab if you can. And great pasta. And don't overcook the pasta. And if your taste buds need tingling then add more chilli. And choose a good wine to sip with it. Picpoul de Pinet St Clair 2019, is a dream as a white match, but I think a pink combo would be good: so try Mánnara Pinot Grigio 2019. From my online shop 'William's House Wines' via the 'VISIT WEBSITE' button in the full post.
Ingredients:
400g linguine
3:1 white:brown crab meat
Extra virgin olive oil
Garlic
Fresh red chilli (deseeded)
White wine/rosé
Fresh parsley
Lemon zest and juice
Salt and pepper
Directions:
1. Boil the linguine in a pan of salted water (Cook for a minute less than it says on the pack)
2. Finely chop the chilli and garlic and fry in olive oil until soft in a large frying pan. Add the wine and cook until it has mixed fully with the oil. Add the brown crab meat and a little lemon zest while on a lower heat
3. Add the pasta to the sauce once cooked
4. Take off the heat and add the white crab meat and finely chopped parsley
5. Add the lemon juice and season with salt and pepper to taste.
Claire Casey - Super Simple Salmon a'La Pesto with Giat Couscous, Watercress and Lemon
I love this because its a one dish wonder and summer is for partying, not cooking!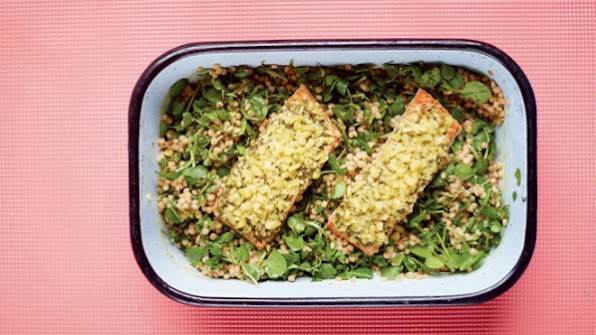 Serves 2
Prep - 5 minutes
Cook - 20 minutes
Ingredients:
200g Wholewheat couscous
400ml vegetable stock
Zest and juice of 2 lemons
2 skinless salmon fillets (approx. 200g each)
2 Tbsp. of your favourite pesto
20g Pine nuts, roughly chopped
100g Watercress, roughly chopped
Sea salt and freshly ground black pepper
Directions:
Preheat the oven to 200°. Add the couscous to a roasting pan or large baking dish along with the vegetable stock and lemon zest.
Place the salmon fillets on top of the couscous and spread the pesto over the fillets. Press the pine nuts into the pesto, cover the dish tightly with foil, then transfer to the oven and bake for 20 minutes.
Remove the salmon fillets from the roasting pan and stir the chopped watercress through the couscous. Season to taste with sea salt and freshly ground black pepper and some of the lemon juice, and serve with the salmon.
Emma Deterding - Summer Chicken - (Ready in 25 minutes or less!)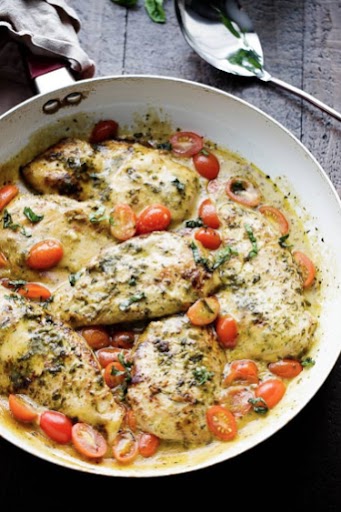 Ingredients:
1 table spoon of olive oil
4 x skinless boneless chicken breasts
200g pack of cherry tomatoes
3 tablespoons for pesto
3 tablespoon of crème fraiche (half fat is fine)
Fresh basil
Directions:
Heat oil in thick frying pan, preferably non stick. Add chicken and fry with out moving so the bottom takes on some colour.
Turn the chicken and cook the other side. Continue cooking for 12-15 minutes until the chicken is cooked through. Season all over with a little salt and pepper
Remove from pan and leave to relax
Half the tomatoes and throw them into the pan, stirring for a couple of minutes until they soften. Reduce the heat and stir in the pesto and crème fraiche until it makes a sauce, pour over the chicken and scatter with fresh basil
Serve with Salad and rice or mash.
Mark Todd - Simple Chilli Pasta
I made Chilli pasta the other night which everyone loved. VERY simple.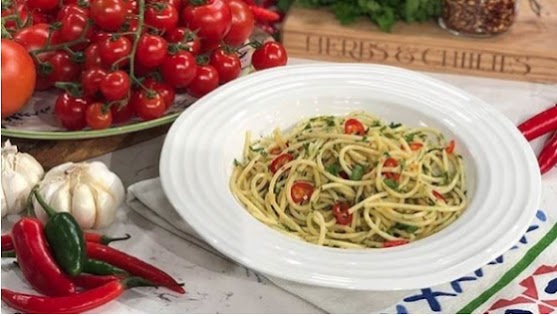 Ingredients and directions:
In a pan with good dollop of olive oil and tbsp of butter add about 6 shallots,2/3 cloves of garlic and 2/3 red chillies (or however many depending how hot you want it)and salt and pepper to taste. Let that cook for 2-3 mins then add good dash of wine and let that simmer for 5 mins. When your spaghetti is cooked, drain and add the onion/garlic/chilli to the pasta and stir through. Add a bit more olive oil if needed. Chop a decent handful of flat leaf parsley and stir that in. Serve and grate Parmesan cheese on top and simple salad on the side.
Great with a nice bottle of white or rosé.
Grapevine is a trusted network of private members, linking kindred spirits from town or country. Members promote, sell or buy goods and services within the network.
Grapevine also believes in supporting young people to get a strong start through internships and work placements. We also help a number of charities including Heads Together and The Injured Jockeys Fund.