Grapevine interviews LOVE BRAND & CO. founder, Oliver Tomalin
Oliver tells us all about how his idea and company came about and what inspired 'Trunks for Trunks' plus, the importance of charity and the ethical LOVE BRANDS ethos.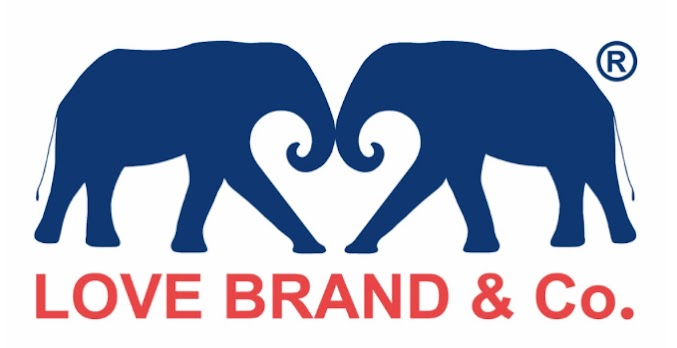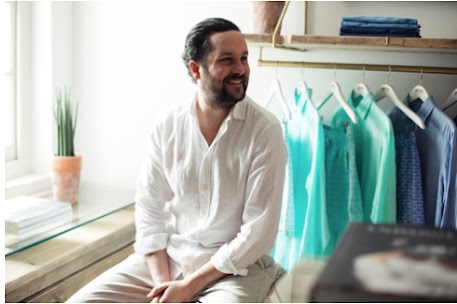 So, can you tell us a bit about Love Brand & Co?
My name is Oliver Tomalin. I am the founder of LOVE BRAND & Co., the British luxury men's swimwear brand committed to saving elephants. Almost a decade ago, I created the brand, marrying my passion for summer lifestyle with a desire for my brand to have greater purpose in helping protect the natural world.
I dedicated the brand to helping conserve wild elephants and donated a percentage of our revenue - not profits - to wildlife charities around the world. We call our mission 'Trunks for Trunks' - swimming trunks saving elephants! The brand centres around good times on holiday, family, sustainability and conservation. We have a timeless silhouette and we are building a reputation for an elegant and meaningful print handwriting.
How long have you had your business and how did you come up with the name?
I founded LOVE BRAND & Co. in 2010. The name is indicative of the greater purpose I wanted the brand to carry and the message I wanted to spread. I was creating a brand with a loving and meaningful purpose and therefore named it simply LOVE BRAND & Co. The name is purposely not suggestive of any product or place but just an ethos.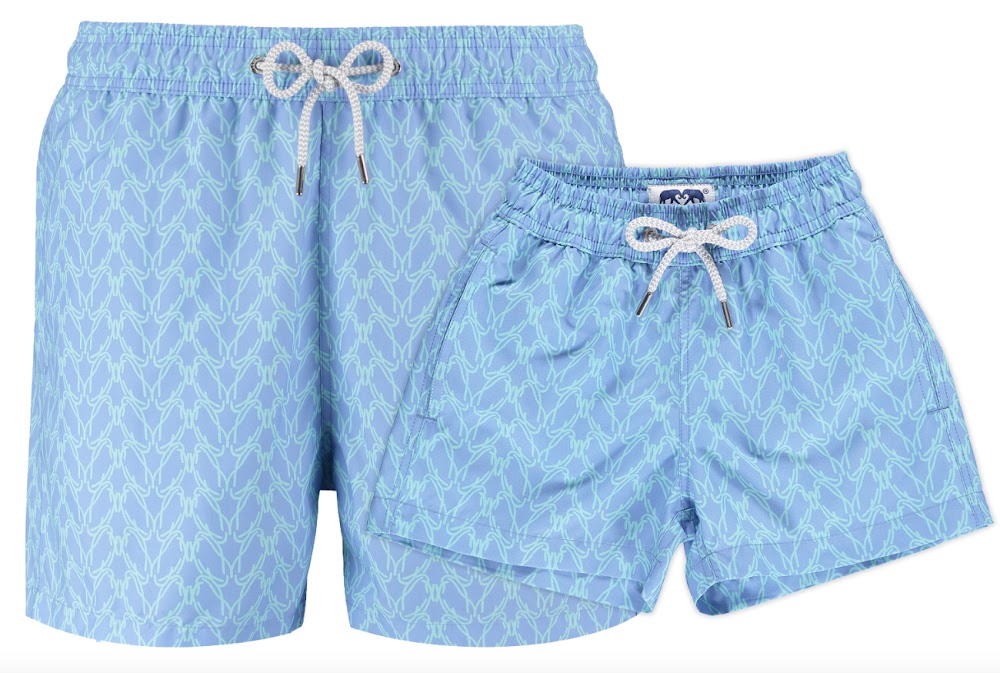 What inspired you to start Love Brand & Co?
I originally set out to be an architect but found myself impatient and wanting to start working right away rather than spend more years training. With a love of the summer lifestyle and seeing men's swimwear as an exciting space, I was set on creating a men's swimwear brand with a loving ethos. But what greater purpose could it serve? I believe everything in nature, as in life, is connected. Elephants have always been a special part of my life. Adventures in Africa as a child is where it began and as an adult when I was deciding on the philanthropic direction for LOVE BRAND & Co. 20 years later, fatedly elephants were on the streets of London. Not real of course but an exhibition of painted elephant sculptures raising awareness for Asian elephant conservation. The fact that Asian elephants could be extinct in my lifetime struck a deep nerve. I have always been in awe of these majestic, intelligent and beautiful animals.
Elephants are our largest land mammal; they demand a huge amount of wild space to survive. We have to decide whether we are going to share our planet with wildlife or not. Elephants are immortalised in fiction and widely scientifically studied, wrapped up in a history of wildlife crime, tourism crime, geo-political wars and ancient and modern culture. They are fascinating creatures and ask from us all the right questions. Elephants are on the front line of our planet's battle of space and resource, endlessly waged between man and nature.
During this eureka moment in London the mission was set and LOVE BRAND & Co. was born. Immediately after seeing the elephant sculptures in London, I went to see the charity behind the exhibition, Elephant Family. I had a meeting with the late founder Mark Shand and with a nod of approval from the charity, I set in stone the vision and values.
Are you the single founder or do you have partners?
Aside from elephants, there is also another love story here. At the same time as developing the brand, I met my wife Rose. Even designing the brand's logo - of two elephants forming a heart - on a napkin during our first date together. Soon after that I asked Rose if she would like to come to India with me for 3 weeks. It was quite a bold move after only knowing each other for a month. The purpose of the trip was to meet an elephant called Tara.
The elephant from Mark Shand's book - Travels on my elephant - where Mark rescues and rides Tara across India to a safe sanctuary. To my surprise and delight Rose said yes. And off we went to the Kanha National Park in Madhya Pradesh, right in the middle of India, to find Tara at Kipling Camp. It was a make or break trip for us, with frogs and spiders in the sheets and eating delicious curries with our hands and sharing a small shed-like room in the jungle with no bathroom door. But it was magical as we watched Tara the elephant graze at dawn and washed her feet and toenails in the lake.
Tara, even as a domestic elephant, continues to inspire us and our mission to help wild elephants each day. Every day since meeting Tara,we have been building the brand together and are now married with two children.
Where do you get your inspiration from with your designs?
Nature, travel and adventure. I use the prints to draw attention to the natural world and endangered species. I love revealing hidden narratives of nature and my travels. From afar my prints look like smart geometric patterns, but on closer inspection they are conversational motifs. Prints are essential to my brand's world. A diamond pattern is too boring, a print with kites all over it is too obvious but a diamond print which is actually a squadron of manta rays, this is a LOVE BRAND print.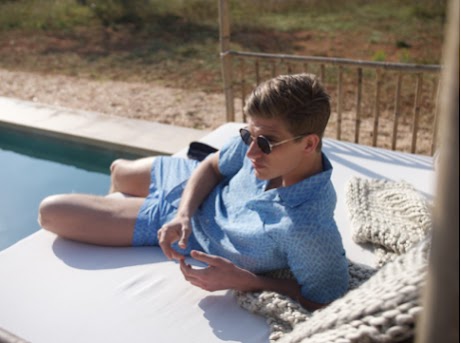 Saving Elephants is obviously close to your heart. Tell us what led you to give a percentage of your revenue to conservation and wildlife charities.
Since day one, LOVE BRAND & Co. has committed a percentage of revenue - not profit - to helping save elephants from extinction. But we actually started by donating 5% of our company revenue - not profit - to Elephant Family, a British charity conserving endangered Asian elephants. 5% was a number reached by us, when I calculated how I could donate a meaningful amount to this charity on the modest revenue forecast of a start-up clothing brand. This model and promise enabled the brand to build strong relationships with its charity partners whilst being viewed as credible by its customers and fans.
Over nearly a decade, as the company grew, the 5% number started to work against us rather than with us, holding the company back and also diluting the brand's focus on elephants as we began disbursing funds to more and more environmental initiatives and species. The brand was at an impasse; with all the love in the world, we were losing direction. I knew in order to save the business and in order to grow and continue to help elephants, the brand needed to rethink its model. Perhaps taking what felt like a step back - in order to take a giant leap forward.
In 2020, I decided to join 1% for the planet, a model that worked for much larger and inspirational companies that I admired. We believe 1% is the number that will enable LOVE BRAND to focus and scale and make the most positive impact to help elephants. A promise, we have never wavered from. The decision was also taken to financially support only one charity each year, through 1% for the planet and in 2020 we are proudly supporting the Sheldrick Wildlife Trust and their incredible Orphans' Project.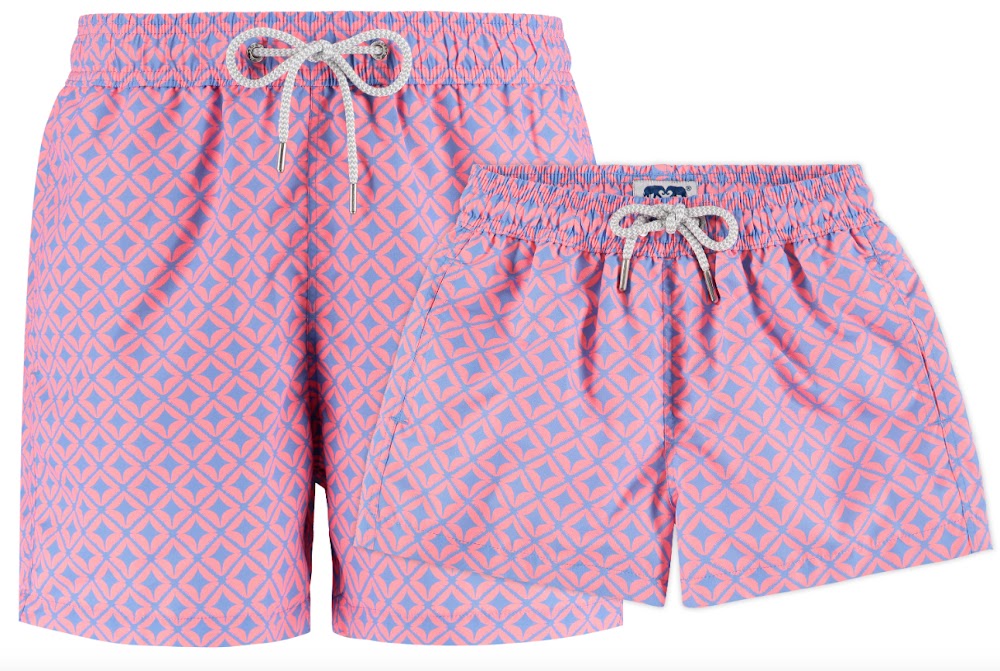 To date, the SWT's Orphans' Project has successfully raised 260 orphaned elephants who have lost their mothers due to poaching, human-wildlife conflict, habitat loss and drought. The project focuses on rescuing and raising milk-dependent baby elephants, hand-rearing them at their orphanage before gradually introducing them to a wilder environment from which they can safely reintegrate back into the wild at their own pace. Through their careful rehabilitation program, each elephant is lovingly looked after by a team of dedicated keepers who act as surrogate family members.
LOVE BRAND & Co. does not just donate but rather becomes actively involved in the promotion of their work, through print design and education at the brand's digital and physical environments. We visit their projects and use our platform as much as possible for the overall benefit of elephants and the natural world.
Do you just sell in the UK and Are you planning on expanding your business to other areas in the world?
It is always summer somewhere so we are a global business! Although we are based in London you can find LOVE BRAND & Co. all over the world. We work with some of the best boutique and larger hotel groups around the world. North island in the Seychelles, Necker Island, Sandy Lane in Barbados, Belmond, One & Only Group - to name a few. Our aim is to keep growing and bring LOVE BRAND and our cause to more people around the world so we can support elephants and endangered wildlife as much as possible.
I see you have a store in Barbados, why Barbados, how did that come about?
It's a small story of perseverance. I think one of the most important things when starting a brand is perseverance. It is so important to believe in what you are doing and not to give up just because someone said no.
This was certainly the case in Barbados, an Island I know well as my family lived there in the early 80's. There was a perfect little beach shack where I thought our swimming trunks would sell well. The beach shack only sold women's swimwear and accessories but I did not see this as a problem as the predominantly female customers would still have husbands in tow and enjoy discovering something for themselves. So I approached the lady who ran the shop with the brand and she said no. After a number of times asking, and a number more no's, she finally gave into the idea of having a basket of LOVE BRAND swimming trunks in the shop and to see what customers thought.
The customers loved them. And on popular demand she started stocking LOVE BRAND at her beach shack. A few years later and building on the brand's popularity, she decided to extend her physical shop in order to accommodate the brand's full collection. In 2017 we launched the beach shack shop-in-shop, which still runs today alongside the women's boutique. Next door is JuJu's, who makes the best rum punch, I strongly advise a sundowner and a swim there, when in Barbados.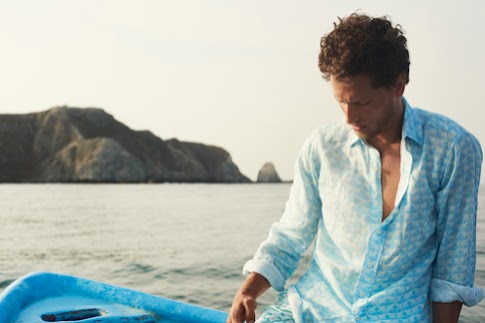 What led you to be in this industry? Did you have others plans before Love Brand came to fruition?
I was actually training to be an architect but found myself too impatient to complete the seven year training. I left Edinburgh University with an MA in Architectural Design, part one of three parts required to be a practicing Architect.
The later two parts I could come back to so I decided to try something entrepreneurial. With a love of the summer lifestyle and memories of holidays in South of France and Spain wearing rope soled espadrilles, I launched a small espadrille import business. I made espadrilles in traditional factories in Spain and France and sold them on the Portobello Road, online and at fairs and events around the UK. What was a fun Summer of making, marketing and selling my espadrilles, turned into a very happy few years learning and developing ideas for my own lifestyle brand.
In 2010, I decided to put my architecture degree permanently on hold and start my eco-beachwear dream, looking at the men's swimwear market as an exciting space with room for a new premium brand.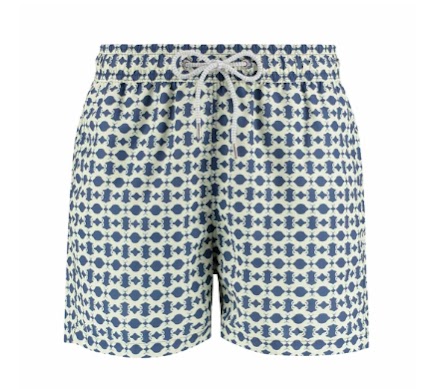 Obviously there are many ups and downs when starting your own business, what was your biggest challenge?
My biggest challenge was - and still is - learning everything on-the-job. Every day since leaving University I have been self-employed or running my own business. Without any prior experience of running a company, designing products or managing people. It has been an amazing journey of overcoming all sorts of challenges. I have followed my gut most of the way, learning from first hand experiences and trying not to make the same mistakes twice.
My biggest challenge to date I would say, is now, with COVID-19.
This Coronavirus pandemic is a nightmare for businesses across the whole board, what ways are you having to adapt Love Brand and the way you run it to hopefully lessen the blow?
Being so closely connected to the travel and hospitality industry, we have felt the full impact of COVID-19. First it hit our supply chain, as our factories in Spain and Portugal suddenly closed. Then it hit our bricks and mortar business as we were forced to shut our shops in lockdown and then our B2B business, with our stockists cancelling current orders and postponing future orders. With key meetings and industry trade shows also all cancelled, our plans were torn in two. However, I think when the going gets tough, the tough get going!
I am keen to use the time well and look for positives and opportunities that we can take from all this. With only our ecommerce business for revenue, the pandemic has meant that we have focused all our attention and resources online, something we have never done before. We are learning so much. It has also given my team and me the time to do all the things we never had time to do in our normal day-to-day.
The number of times I must have said in the office, "I wish I could just stop the clock..." in order to do deeper have time to analyse something properly or rewrite this or redesign that, but as a small business run off your feet, you never do. In the last weeks, we have been looking at our business and our strengths, refining this, speaking to our customers and planning for a new landscape on the other side of COVID-19. We are delighted to see customers are still shopping online from all over the world and are thankful to our fans more than ever during this time.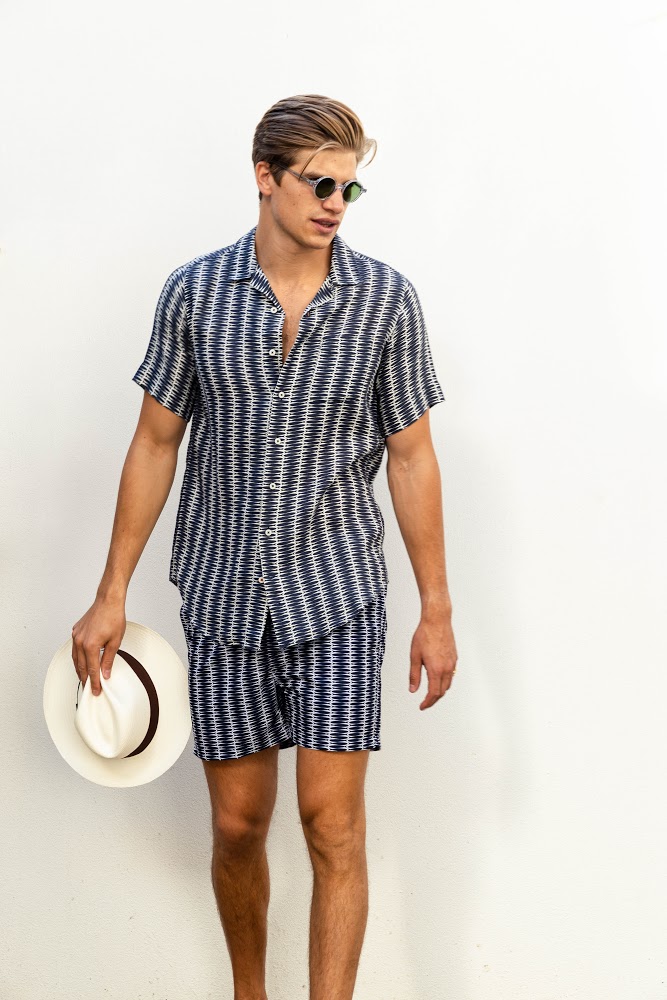 Can you tell us a bit about your latest collection?
I love our new collection, it has a natural colour palette inspired by land and sea. Look out for Cuban collar short-sleeve shirts perfect for manning the BBQ. Our recycled Swim Shorts in a new prints of Sumatran Tigers with matching 100% organic Linen Shirts linen shirts with nut buttons. Or our boys swim shorts with Banana leaves, alongside our mens' and children's' Summer stables of organic cotton Polo shirts, T shirts, Linen Trousers and Shorts and even some classic espadrilles thrown in for good measure!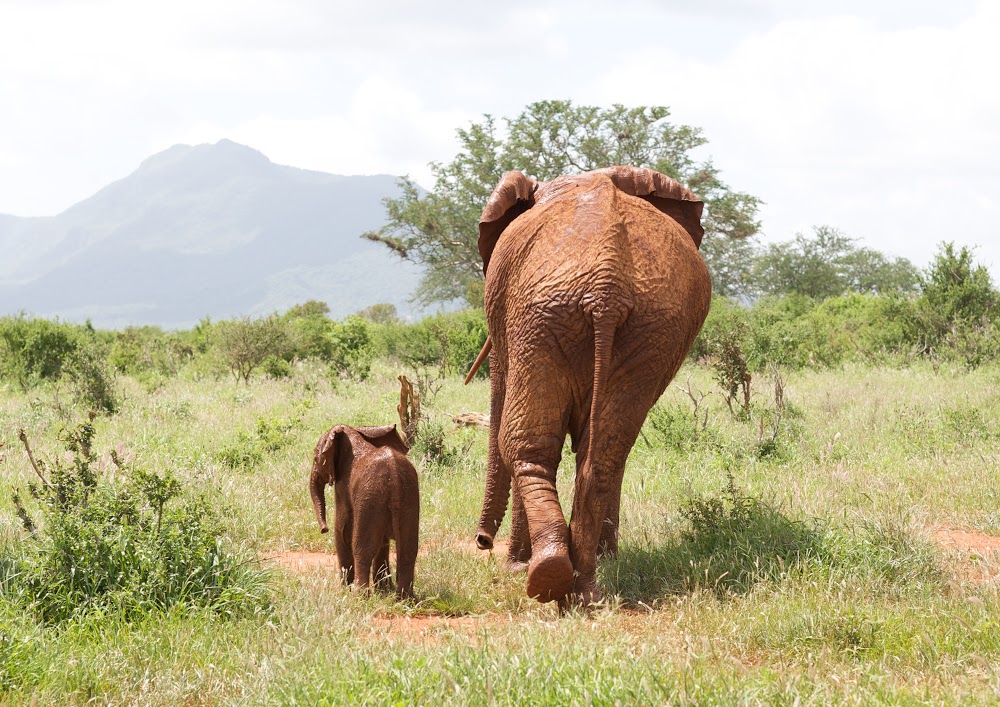 To see LOVE BRAND & Co's website and get your member discount of 20% off, please press the 'Visit website' button.
Grapevine is a trusted network of private members, linking kindred spirits from town or country. Members promote, sell or buy goods and services within the network.
Grapevine also believes in supporting young people to get a strong start through internships and work placements. We also help a number of charities including Heads Together and The Injured Jockeys Fund.