Dispelling the myths and misconceptions of Oman
Gaynor Hall writes us an interesting and informative piece on why we should be going to Oman.
When I was in the hairdressers, the man who brought me a coffee, caught sight of a guide book on my lap. 'Who on earth would want to go to Oman?' he said.
That seemed to sum up the prevailing view of this country pretty well. When I mentioned that I was going, reactions ranged from safety concerns at one end of the scale, through to the somewhat predictable worry about not being able to get a holiday tipple, at the other. Of course, all questions came after I had answered the first question – where is it?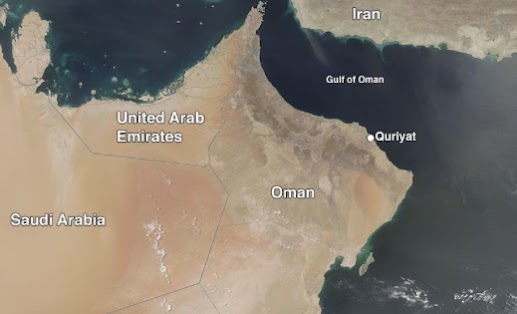 Well, hands up. I am going to come right out and say it. I am a massive fan of Oman (it's bordered by the UAE, Saudi and Yemen, by the way). This is a fabulous, fascinating country and I simply cannot wait to go there again. I have travelled extensively, but this is one place that really got under my skin. Literally miles away from the Levant, the home of frankincense, Oman felt like the true Arabia, stirring up childhood memories of the tales of Sinbad, magic carpets and Arabian Nights. If you love raw, wild, diverse landscapes and want something more from a holiday than just the beach (although to be fair, Oman caters for that type of holiday too), here are my honest answers to a few questions you may have, with some interesting facts about Oman, and details of my trip thrown in for good measure.
IS IT SAFE?
First things first. Put aside any news-fed pre-conceptions you may have of Muslim countries. Oman is consistently voted as one of the top ten safest countries in the world, right up there with Finland. In fact, in October 2018, a World Economic Forum report focussing on incidences of terrorism, ranked Oman as the safest country in the world.
I never felt threatened in Oman and in contrast to some other countries, I never felt uncomfortable as a woman traveller. I was welcomed courteously, even well off the beaten track where visitors were still a rarity. Even bartering was carried out with good humour, and was a long way away from the souks of Marrakech.
ISN'T IT JUST LIKE DUBAI?
No. It couldn't be more different – historically, geographically or culturally.
While not ignoring Dubai's early settlers, it is, I think, fair to say that it has a relatively recent history, at least in its current iteration. In contrast, Oman has a long and rich history, in part due to its optimum position on the sea trading route between eastern and western continents. Rich in copper and frankincense, both extremely important commodities in the past, trading routes were established into ancient Egypt, Mesopotamia, Greece, Rome and China. This gave rise to a nation of sailors (think Sinbad), astro-navigators and an outward looking view. Oman became an Empire, reaching its zenith in East Africa, with Zanzibar becoming the capital of Oman in 1840. Today, Oman is an absolute monarchy with the much-loved Sultan Qaboos, the father of the nation, ruling since 1970. When he ousted his father in a coup and came to power (I bet family gatherings were a little tricky after that), using wealth from the newly discovered oil reserves, he transformed the country, building roads and infrastructure and making drastic and much needed improvements to education and health care. Sultan Qaboos is a graduate of the Royal Military Academy Sandhurst, and to this day, retains strong links with the UK and its armed forces.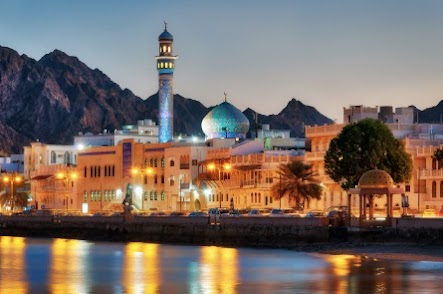 Culturally, Oman is generally regarded as one of the more relaxed Arabian countries. Dressing respectfully in appropriate clothing is key and frankly, not too much to ask (I wore combat trousers and a long-sleeved t-shirt but had a scarf to hand if I needed it, which I only did once, when visiting the beautiful new Sultan Qaboos Mosque in Nizwa). Only once did I see a local man a little annoyed, and that was when a French female tourist was wearing a skimpy strappy cropped top and a mini skirt near a mosque.
The Omani women wear abayas, the long black dress, but they were loosely worn, often revealing fantastically coloured clothes and shoes underneath.
This conservative but slightly permissive attitude is also translated into their position on alcohol (that tipple question). You are permitted to bring 2 litres of alcohol into the country, and in fact, there was a huge shop at the airport, just after baggage collection, specifically set up for this purpose. While visible drunkenness on streets will not be tolerated, no one is going to frown at you having a sun-downer on your balcony. In resorts, alcohol is served, and there you will see locals drinking quite openly.
IS IT JUST DESERT?
There clearly is desert, and more of that later, but the geography of Oman is spectacular and makes it a savagely beautiful country. Interestingly, Oman is actually divided into three parts – the main country, then two satellite parts, Musandam and Madha, which are both surrounded entirely by the United Arab Emirates.
There are huge stretches of empty palm tree shaded coastlines; soaring mountains with deep valleys and mudbrick villages clinging to their vertiginous slopes; narrow, rocky wadis with deep, cool pools you can swim in; and a canyon, the Wadi Nakhr (sometimes referred to as Wadi Ghul, to which it is joined), which in my opinion, seriously rivals the Grand Canyon. And yes, there are the windblown dunes and gravel plains of the inland deserts, including the infamous Empty Quarter, crossed by the great explorer, Thesiger in the 1940s, while living with the Bedu people.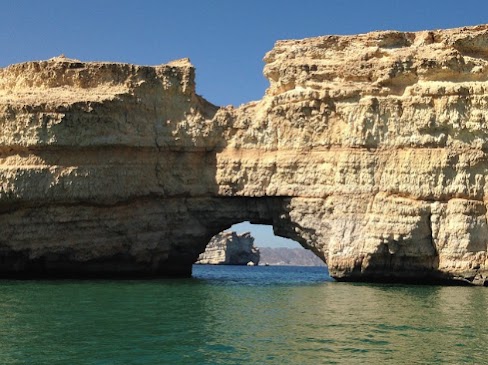 Expect the unexpected. One minute, leaving the Wahiba Sands desert in the Ash Sharqiyyah region, you will be driving through dunes of orange sand, the next, reaching the town of Ibra, you realise that the chocolate-brown rocks bordering the road are actually ophiolite, and you are looking at the sea bed from 250 million years ago. Everywhere you go there is a sense of discovery and the ancient.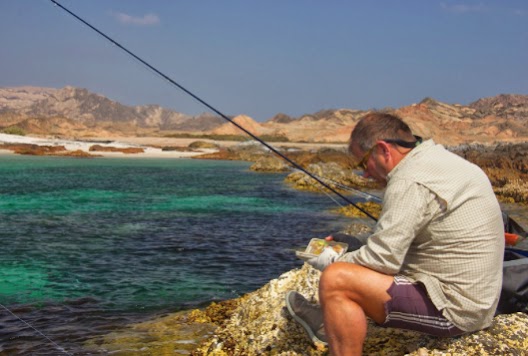 Nowhere sums this up more than when missing a turning off the motorway, and after a quick check of Google Maps (note, it only works on 'preview' setting in Dubai) I took a slightly different road to head towards the coast, taking a route through the Wadi Mayh (not in any guidebooks). The tarmac soon petered out, being replaced with a good, metalled road, which twisted through a narrow, steep sided wadi, resembling a backdrop straight out of Indiana Jones and the Last Crusade. The cliffs on either side of the wadi were twisted and contorted, the strata of the rocks rising vertically, only to fold back on themselves and plunge to the valley floor again. I found myself stopping frequently as it just got more and more jaw dropping. Then I found a modest little sign which told me that I was in a site of major geological significance. Here I discovered that the folds were called 'synclines', and here were magnificent examples of cuts through intensely folded limestones, some 300 million years old. As I continued on my drive, there were more dusty, helpful little boards. What there wasn't was anyone else – no tourists, nobody. Just the odd locally driven Landcruiser and a couple of donkeys. I had this very special place entirely to myself.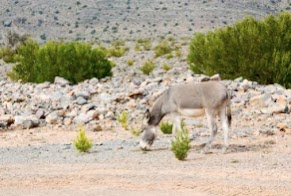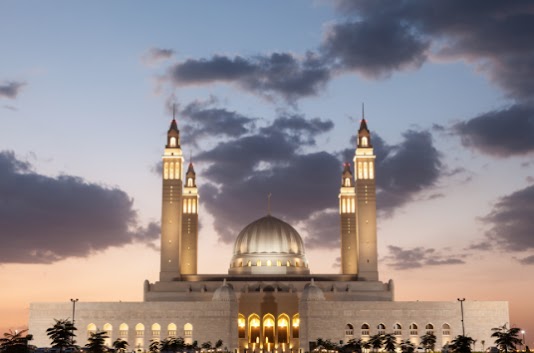 DOES IT EVER RAIN?
Rarely, but it was something I did experience!
I had left my base in the ancient capital of Nizwa in the Western Hajar region (amazing place – well worth a visit with an interesting souk and beautifully restored fort) to drive up the highest mountain in Oman, Jebel Shams, to trek along the balcony walk which overlooked the Wadi Nakhr, the Grand Canyon of Oman. The Wadi was so spectacular and frankly, on such an unexpectedly large and dramatic scale, I couldn't get enough of it. In Oman, the lack of tourists is evident everywhere you visit, (away from the up-market resorts on the coast) – it is just empty. Even 'famous' attractions like the Bimmah Sinkhole are not only free to enter, there is just no one there. However, nowhere was the lack of people more noticeable than here. Rocky viewing platforms that would be swamped in most places with a view as amazing as the one beneath us, held only a French couple and three ladies who I learned had driven from Dubai to witness the beauty of the canyon for themselves.
Heading to the small village of Khateem, and accompanied by a friendly goat, I set out on the well-marked trail that is route W6 (red, white and yellow markers are painted on rocks). The clouds were gathering above the canyon, and within minutes the sun had gone in, the temperature had dropped and then began a downpour which could only be described as biblical. Even the friendly goat took shelter under a rocky overhang. Not willing to abandon the trek too hastily, I also took shelter, only to realise my vulnerable position when I heard the first rumble of thunder. Turning around, I trekked back to the car, soaked to the skin, and irritated that I had missed the opportunity to trek up this fantastic canyon. However, Oman, winning me over even further, soon turned the negative into a positive. As I drove down to the valley floor, along roads which had become torrents of water, and through some pretty dangerous floods, I suddenly realised that something wonderful was happening. Parking, I joined the throngs of local people who had emerged from their houses, some with babes in arms, to point out the river raging through the valley which had been dry only hours before. Children roared with laughter as they splashed through the puddles, turning their faces to the sky, trying to drink the rain. I was with locals, taking part in and sharing a rare event, and travel experiences don't come much better than that.
BUT CAN I VISIT THE DESERT?
The easiest way to visit the desert in Oman is to go to the vast Wahiba Sands area, a pleasant two-hour drive from Nizwa, or 2.5 hours from Muscat. There are a range of fixed desert camps to suit every budget, and to be honest, I expected a touristy set up on the fringes of the desert.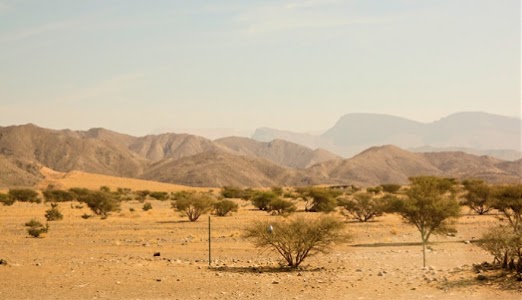 I was wrong. It was fantastic. The sands cover a vast area – some 180km from north to south and almost 80km from east to west. In some places, the dunes reach a height of 100 m. There are no roads, just a network of tracks: it is vast, empty, and the desert of your imagination, with dunes perfectly sculpted by the wind. Before you enter the desert, the man at Al Jabal Al Bani Trading – Auto Tyre Repairing in Al Wasil will let your tyres down and reinflate them for you afterwards for the princely sum of £1 (payable when you return). I had to drive 14km to the camp I was staying at and it was spectacular. Soon, I was surrounded by towering dunes, with a few camels wandering in the distance, framed by the sinking sun. A large dune rose behind the camp, with a handy rope to help you climb up – thoughtful, as the sand is so fine it trickles like water, and promotes a thigh burn greater than any spinning class ever will. I climbed the dune for both sunrise and sunset, which were unforgettable experiences. The quiet, the peace, the beauty of the place promoted an inner peace and a sense of escape.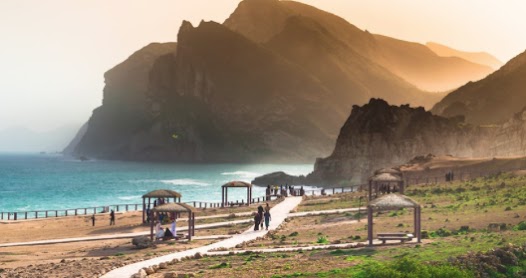 IS IT EASY TO GET AROUND?
Oman is one of the few countries in the world that doesn't have any railways – 27, I think. But thanks to Sultan Qaboos, there are fabulous new roads and the infrastructure continues to expand. It is easy to drive, and the standard of driving is good, but can be fast on occasions. But it was never busy in the UK sense of the word, and made for a stress-free experience. if you don't fancy driving yourself, there are numerous guides who will drive you in their own Landcruiser.
WHAT ABOUT THE FOOD?
The guide books would have you believe that Omani's eat to live and there is little to discover. I would completely disagree. Oman has a large immigrant Indian population and most restaurants seem to be run by Indian chefs. This results in a mix of food styles – biryanis, kebabs, delicious curries, all served with a gut busting portion of rice.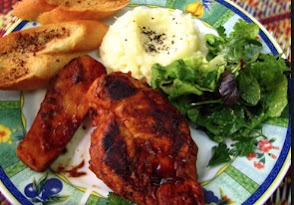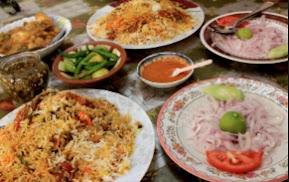 Sure, it's not Nobu, but it's tasty, cheap and standards of cleanliness are high, due largely to the rigorous inspection regime operated by the authorities. I never got ill – not once. The juices are also fabulous – try the lemon and mint – just like a non-alcoholic mojito. As an aside, and another fascinating fact about Oman, you will struggle to get a diet Coke. There are little or no Coca-Cola products available in the Sultanate, being firmly committed to Pepsi.
WHAT ARE THE PEOPLE LIKE?
Friendly and courteous. This is an often over-used phrase, but here, this really is the case. My first stop on the motorway on my first ever day in Oman was a case in point. Entering a slightly intimidating road side shop to grab some water, I was stopped by a very tall man in a pristeen white dishdasha. Have you been to my country before he asked? When I said I hadn't, his face broke into a broad grin. 'Welcome to my country! Enjoy your trip and inshallah, you will come back many times'. This attitude was evident throughout my stay. Nothing was too much trouble and I found the Omani people polite and gentle in equal measure.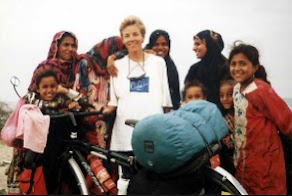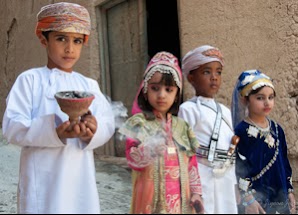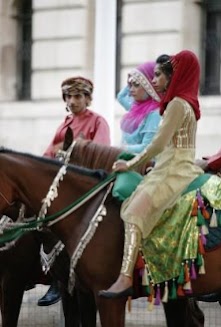 When I was leaving, I was gently chastised by the man at passport control for not having visited the Mutrah Souk. It seemed to disappoint him a great deal. However, cheering up, he said 'This means that you have a reason to come back!".
Don't just take my word for it. Read Levison Wood's excellent new book, 'Arabia' and discover what happens to him as soon as he enters Oman.
A FINAL WORD ABOUT SOMETHING YOU WON'T SEE…
Joining Marino, Qatar and Greenland, Oman is one of the four countries in the world that meets the World Bank definition of treeless. Sure, there are numerous verdant date palm plantations, but they are just what they say they are – planted, and irrigated by the ingenious and ancient irrigation systems known as the falaj. I visited the old, medieval looking town of Misfat al Abryeen, an oasis irrigated by the falaj system, which were originally introduced by the Persians to take water from springs to dry places. After descending steeply from the village, it was a wonderful treat to wander through the plantation, using the walls of the falaj as makeshift paths, and seeing turquoise birds flit from pomegranate laden branch to branch.
TO GO OR NOT TO GO?
It's up to you. But if you do go, I would go soon. Although the Sultan is committed to sustainable and non-commercial development, the glitzy resorts on the coast are already gaining momentum. But head deep into the mystical interior and you will not be disappointed – instead you will be rewarded by one of the most breath-taking landscapes on the planet, with surprise and adventure around every corner.
Gaynor is a Director of Tribal Tracks, an exceptional travel company which has the particular joy of specialising in affordable, bespoke adventures to Oman.
Grapevine is a trusted network of private members, linking kindred spirits from town or country. Members promote, sell or buy goods and services within the network.
Grapevine also believes in supporting young people to get a strong start through internships and work placements. We also help a number of charities including Heads Together and The Injured Jockeys Fund.