Christmas tales of the unexpected
Here is a light-hearted insight into what the run-up to Christmas is like in this household! Enjoy!
Every family does Christmas their own way. It's a day when there is so much pressure and build-up, just for a few hours. The list of Christmas cliches is long…
There's the usual dilemma about where to have Christmas, annoying in-laws, doddery grandparents, odd uncles or aunts, a step-grandmother who air kisses your left ear, the bore of wrapping presents, finding Sellotape, finding the bit where the Sellotape starts, crap presents where you have to smile and say thank you, impatient children ripping open presents, writing thank you letters (or shouting at your kids to agonisingly write them), stocking filling, tiptoe-ing Father Christmas, the battle of stuffing a turkey, timing the turkey, the Aga running out of oil, who has the best cracker toy even though they always get chucked away, wrapping paper everywhere, falling asleep by the fire, pretending to be interested in the Queen's Speech, carols from Kings, the Christmas pudding fire going out before it gets to the table and much much more.
In the run-up to Christmas, about a week before the big day, our family likes to have a special night all together around the Christmas tree and we have a sleepover by the crackling fire. Two parents, three kids, two dogs, lots of sun lounger cushions, a wing and a prayer.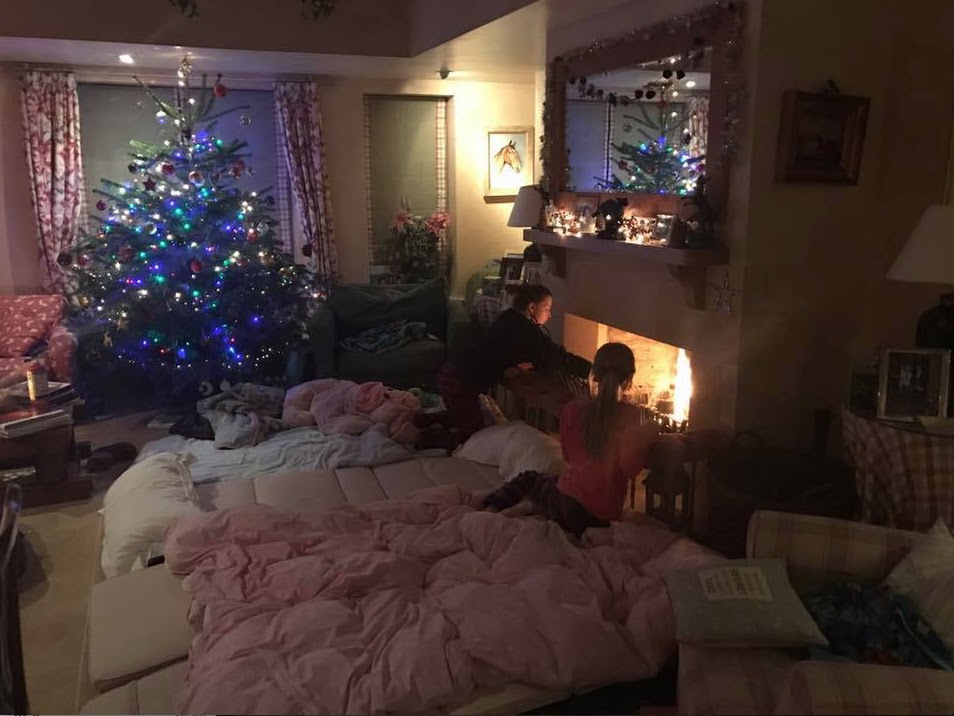 So what happened? Here's what…
The picture is perfect. Rather naff twinkling Xmas tree lights on. Tick. Christmas carols playing. Tick. Children overexcited on sweets. Tick. Fire laid. Tick. Flammable sleeping bags by fire. Tick. Underfloor heating too hot already. Tick. Wife taken the comfy sofa. Tick. Wife prepared with eye mask and ear plugs. Tick. Huge potential for bad night's sleep. Tick. Wishing I was at the inn with Joseph and Mary. Tick.
Pop! The only fuse in the whole house that didn't work was the one controlling our Xmas lights so the gentle sparkle of lights on the tree was somewhat lacking (upset wife).
The kids cooked marshmallows on the fire. Eldest daughter burned her lips through over-eager eating. Life lesson number 136.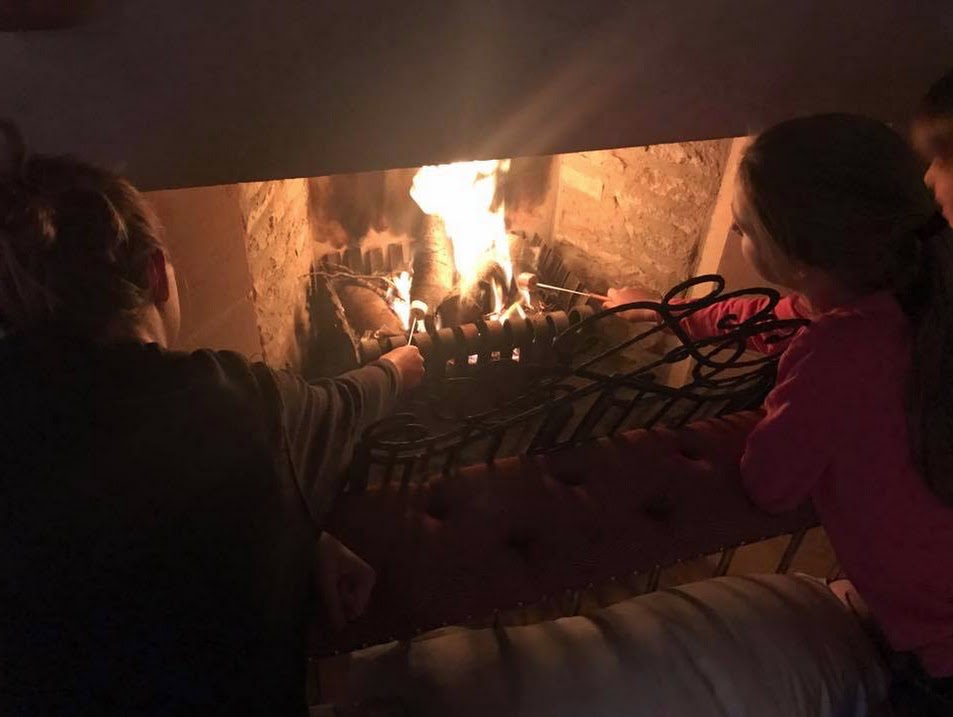 The family game of charades went fairly well. The highlight being 10 year old daughter and her charade for young brother (4). Book, three words. First two words "The Hungry..." Middle child (8) guessed the "Caterpillar" correctly but luckily Mummy (37) didn't as she thought the answer was The Hunger Games…
Then one daughter did "Frozen" and the 4-year old had a complete meltdown saying he was going to do Frozen and it had completely "ruined my Christmas". Slight over reaction maybe?
One child had a big tantrum as we weren't having enough fun by teaching them "gambling" (vingt et un). So she decided to keep everyone awake as long as possible. And succeeded.
Another child had a very bad cold/flu, so was let off sleeping with us and could go to bed upstairs. So to compensate for not being with us downstairs, she insisted on doing ghost noises outside the door, which completely freaked out her tired siblings just as she had intended. So we shouted at her. Just to get into the Christmas spirit.
First person asleep and snoring: The dog. Second person snoring: The wife. And I think I was joint third with one of the kids.
My young son tip-toed to the loo in the morning and came back into "bed". Not by walking quietly around the massive cushion mattress, but by quick-stepping over my legs, like one of those footballer training exercises using tyres. But standing on me instead.
After I'd stifled an "ow", I gave him the "shhh" hand signal as he came back to bed. As he sat down on his bit of the communal mattress he landed on his Build A Bear reindeer and it blasted out that sodding "Let It Go" song from Frozen. Not once but he then pressed it again by mistake. I nearly did let it go.
The underfloor heating was too hot (21st century problem) so it was like kipping with an electric blanket on full blast all night.
Mummy had nabbed the sofa (again), going against my belief that a good night's sleep should not be one of the intended perks of a sleepover. But she did end up with a sore neck, so there was a slight sense of karma.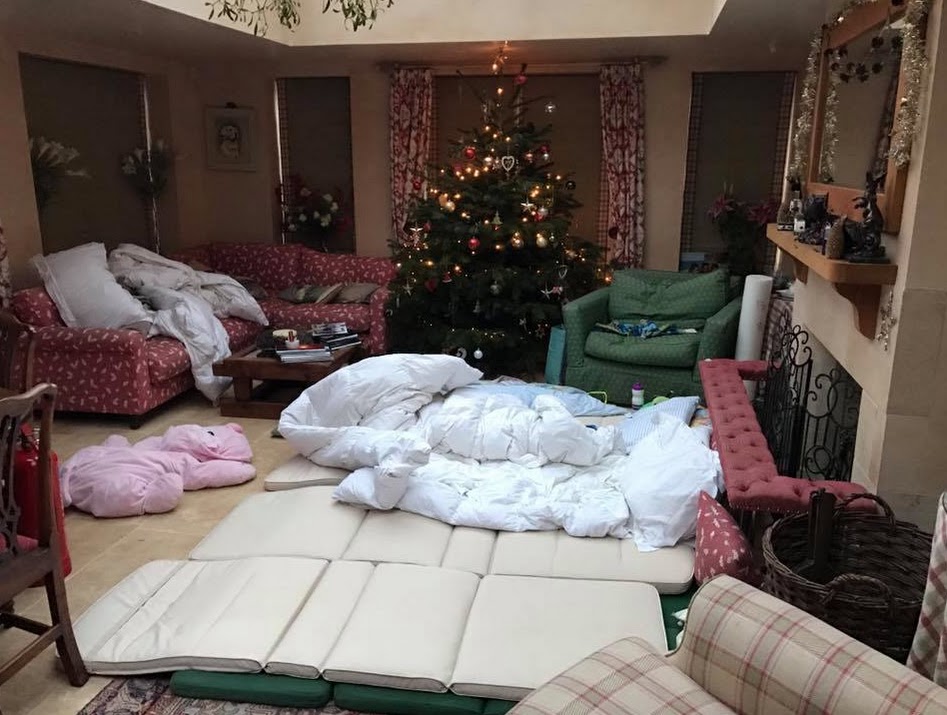 And apart from that it went really well. So it wasn't quite a silent night, but a positive start to the upcoming present opening frenzy. Happy Christmas everyone!
Share your stories!
If you've got any family traditions or yuletide stories you'd like to share with us, please do ping us an email at hello@thegrapevineworks.com.
Grapevine is a trusted network of private members, linking kindred spirits from town or country. Members promote, sell or buy goods and services within the network.
Grapevine also believes in supporting young people to get a strong start through internships and work placements. We also help a number of charities including Heads Together and The Injured Jockeys Fund.