A typical day relaxing on a gulet
Ed Granville from Red Savannah gives us a great example of how your day could take shape when holidaying on a gulet. Once you have read this account, I think you might be as tempted as I am to try this one day, sooner rather than later hopefully!
Enjoy the freedom of sailing through turquoise waters, mooring up at deserted beaches and discovering charming villages well off the beaten track. The beauty of a gulet holiday is that there's no set formula, meaning life on board is set entirely to your own pace.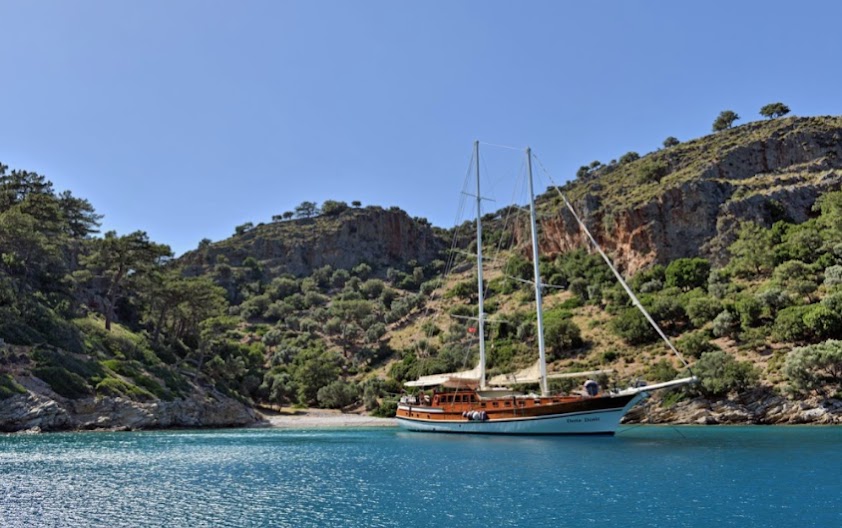 Mornings usually start with a refreshing swim, followed by breakfast prepared by the onboard chef. Despite being what sometimes feels like miles from civilisation, everything is deliciously fresh, with bread baked that morning and fruit plucked from the trees delivered by a local villager in a tender before guests have even woken up. Then, set sail along beautiful stretches of Turkish or Croatian coastline. The low draft of a gulet means you never need venture far from the shore, allowing the crew to drop anchor at will so guests can dive straight into the water. The crew know the region like the back of their hand and empty coves make fabulous watersports playgrounds; many gulets have tenders for water skiing or tubing, while all are stocked with paddleboards, canoes and snorkels.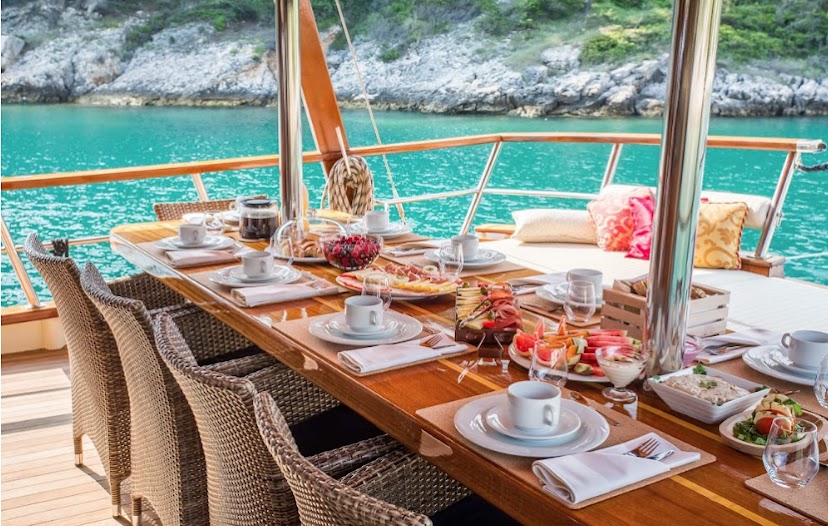 After the thrill of the morning's activity, lunch is rightly deserved! Moor up at a wooden jetty and enjoy the morning's catch at a beachside taverna or dine on deck enjoying a spread of local mezze, grilled meat and salads, accompanied by superb regional wine. The afternoon is yours to relax on deck, soaking up the sun or seeking out a shady spot to read and take in the spectacular scenery as the crew sail to the next bay. Stretch your legs with a trip ashore; possible stops include the UNESCO protected Sehir Island, home to Cleopatra's Beach and some of the finest sand in Turkey's picture-postcard Gulf of Gokova; or the crumbling remains of the ancient city of Knidos, perched on a steep pine-clad hillside overlooking the Aegean. For guests looking for somewhere a little livelier, the idyllic Turkish port of Datca is filled with bustling cafes and artisan craft shops – pick up some of the region's famed honey as a souvenir to take back home.

After anchoring for the evening, freshen up and enjoy sundowners on deck. You may wish to leap into the dingy and motor into a nearby harbour to explore some of the area's unspoiled fishing villages like Cockertme; potter along narrow, winding roads before stopping for a simple dinner in a family-run restaurant, followed by a raki nightcap on the beach. Alternatively, stay put and enjoy an alfresco dinner onboard. It's amazing what the chef can produce from a tiny galley kitchen and menus might even include lobster plucked fresh from the water earlier in the day. There's no need to go anywhere and evenings can continue long into the night, with after-dinner boardgames and cocktails under spectacularly bright starry skies.

For further information or recommendations on gulets & yachts in Croatia and Turkey, contact Ed Granville at Red Savannah.
Grapevine is a trusted network of private members, linking kindred spirits from town or country. Members promote, sell or buy goods and services within the network.
Grapevine also believes in supporting young people to get a strong start through internships and work placements. We also help a number of charities including Heads Together and The Injured Jockeys Fund.