A funny interview with Bounder & Cad
I met fellow members and brilliant comedy duo, Adam Drew and Guy Hayward (Bounder & Cad) for lunch and a chat. This is an amusing interview I hope you will enjoy.
To book please go to, https://www.brasseriezedel.com/live-at-zedel/bounder-and-cad-residency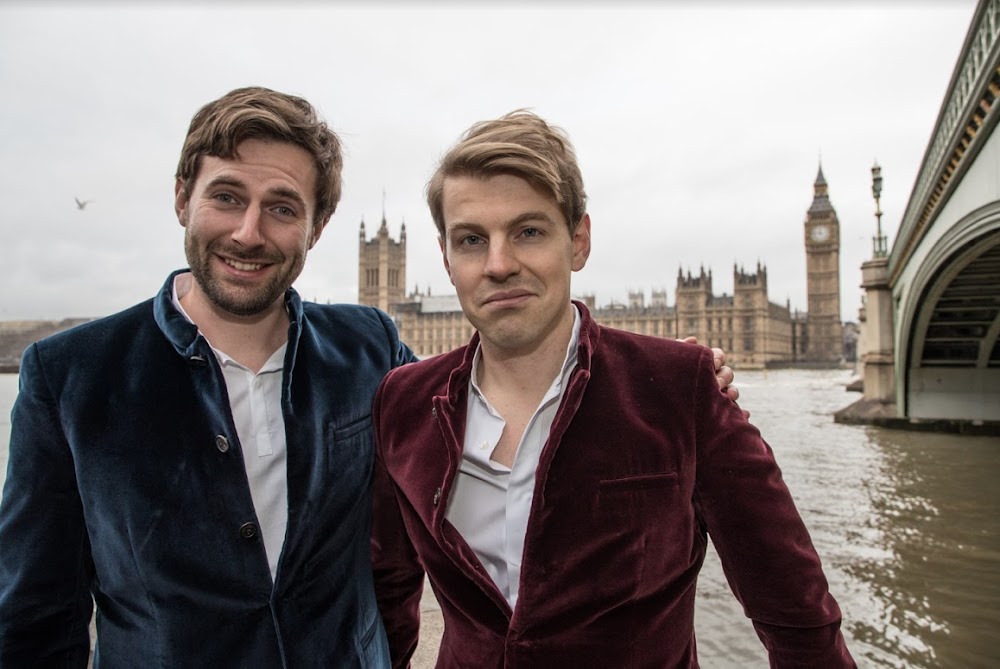 So you both met at Cambridge; how did Bounder & Cad come about and what was the process of the double-act evolving?
Adam - Well, when we met at university, we were singing in our college choirs- pretty rock 'n' roll, I know. We wanted to do something different with our singing, and we'd been wanting to sing in an acappella group - but when we realised we both loved Sinatra, we formed a sort of Rat Pack duo, with a jazz trio. Admittedly a big incentive for doing this was so we could perform at the end-of-year May Balls - and indeed attend these Balls on freebie tickets! Ever the liggers...
Guy - Yeah I think we particularly loved Sinatra and I think part of us liked the idea of dressing up and trying to be suave, slick, sexy and sophisticated; well, what else do young men want to be?! So we went to these May Balls and because as we were in choirs at the time dressing up in cassocks, we really felt the need to be cool, so we wanted to rebrand ourselves!
So you became great friends first?
Guy - Well yeah - friends with promise!
Adam - Oh- it's all coming out now, Guy! Whenever we're asked these questions, I'm sometimes a little taken aback by Guy's answers... Well, we kept running into each other, and we found each other quite amusing - but would you agree, Guy?!
Guy - I think we found each other amusing in different ways; I'm accidentally amusing and Adam is intentionally amusing.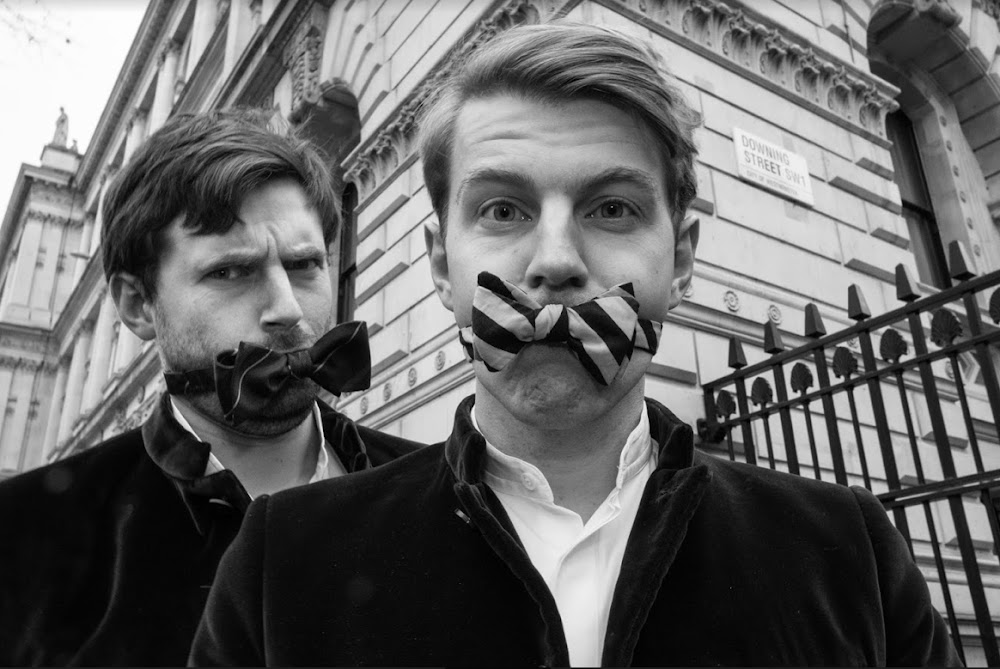 So did you have totally different career plans?
Adam - I've always wanted to be an actor, and I have done a bit - a couple of small TV roles. I've also recently started screenwriting. But I'm busiest at the moment with Bounder & Cad, which means I'm always performing and writing, which is proving a good way to keep building towards other projects too - and it's all a lot of fun.
Guy - I was doing academic research when we started but then ended up co-founding a charity promoting 'bring your own beliefs' pilgrimage in parallel to B&C, and a website promoting choral evensong (inspired by Cambridge), so you never know where things will lead!
And so it follows that the events we sing at are often hosted by 'out of the box' people, wanting a bit of the risqué and something a bit different - getting everyone laughing.
Adam - Luckily there seems to be a niche for the quite particular kind of classic entertainment we offer - and it's very lucky for us that there are so few other people doing what we do - so this limited supply seems to have created a demand for us.
Guy - yes, I guess we've been treading on virgin snow ever since, as it were - especially in Courchevel!
So, were you inspired by all the Footlight artists in Cambridge?
Adam - Yes, I wrote my first ever comedy song for a Footlights show. I could play the guitar just about well enough to accompany myself for a 'whale song' I wrote, about a sperm whale - which actually we still perform, and are performing tomorrow night...
Then I wrote a piece for Guy and me - till then, Bounder & Cad had been singing jazz standards. So I wrote a song about Prince Harry to the tune of 'Prince Ali' from Disney's Aladdin. That was our first B&C original, and the beginnings of what we do now.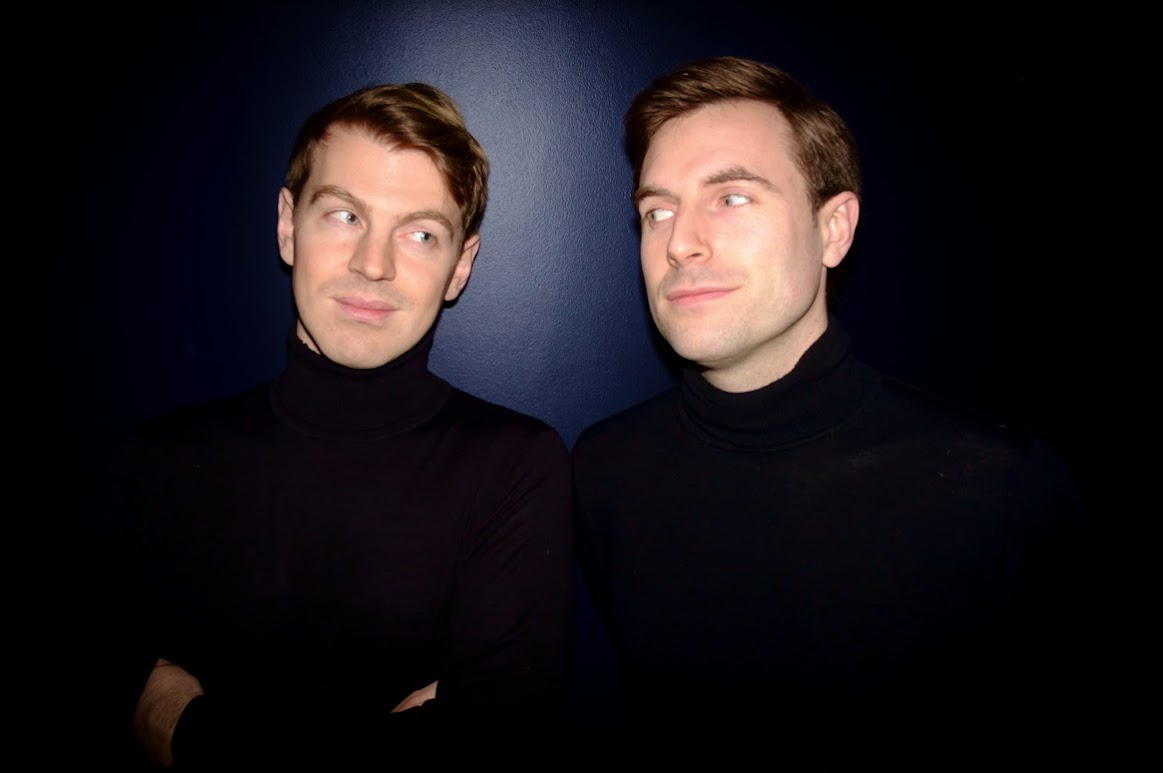 What would you say are the pros and cons of being in a double act?
Adam - Shall we lead on the pros?!... Or actually, maybe let's get the cons out the way...
Guy - In terms of cons, I think the most obvious one, from a musician's perspective, is the fact that you are splitting the fee! So then the pros of being a double act therefore have to outweigh the cons. I would say the cons are imbalances in terms of how hard each of us is working for the act, and when that gets out of kilter, the partnership needs to be addressed.
Adam - The other thing is that we're basically running a business. It's pretty much a full-time job, what with the admin and promo, alongside actually writing the material, and being on stage. So that's another thing that we have to balance between us.
Guy - And also being a friendship first and then our business partnership came second; that transition has actually been fairly seamless for us.
Adam - People say 'never go into a business with your friends' but I'd say it's been a good thing for us - we're good enough friends to be very frank with each other, so we can generally get through disagreements quite quickly.
Another big pro is that the end product is singing and laughter- so generally, by the end of each 'job', we've had a good time and so have the audience (hopefully!).
Guy - Yes, it's very exhilarating and the highs are very high with lots of adrenaline, which can create stress but actually, once you get the release, it generally does feel worthwhile!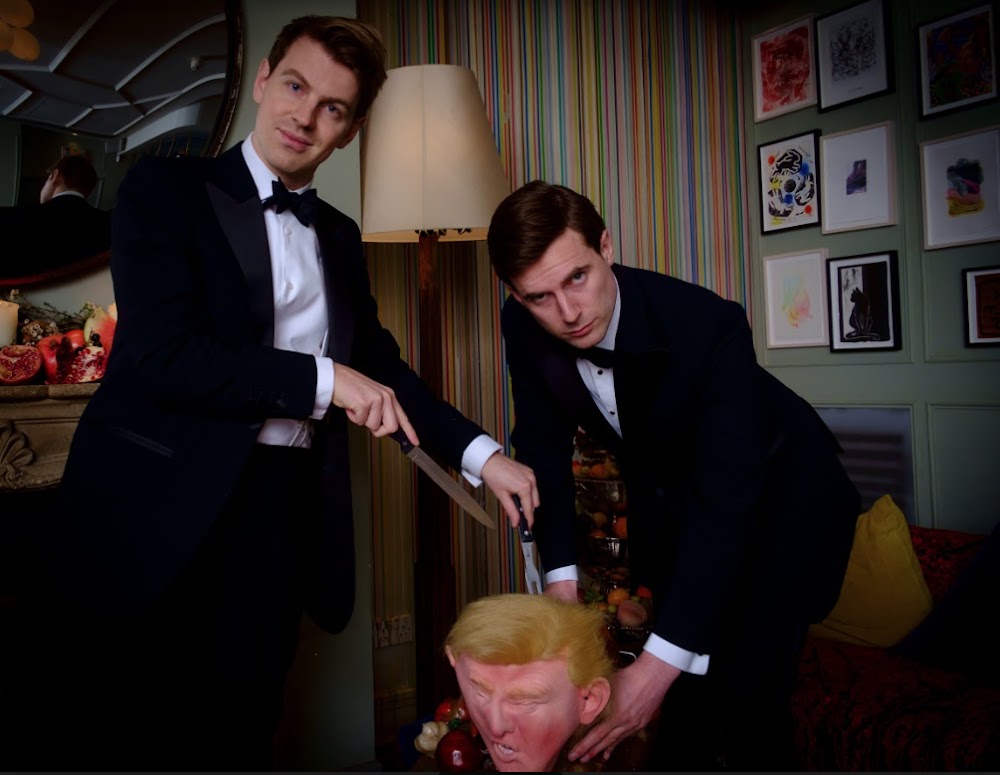 Do you ever have disagreements or tiffs?
Guy - Yeah well, we had a big one this week actually but we got through it, it was basically all little stuff! Because we've obviously both got other commitments in our lives and we've got to make sure we are both pulling our weight.
Adam - Luckily, this is something that we're very honest with each other about - fairness. I think if one of us is asking too much of the other, we will tell them.
Guy - our double act is basically like a marriage - but without the 'benefits'!
Adam - Well, there are some financial benefits, I hope, Guy!
Do you both write the lyrics or is one of you in charge of that?
Adam - I'm in charge of the writing, but Guy does feed in ideas - and whenever I've written something, he is naturally my first port of call to sound things out.
Guy- At the beginning, I did that more, but as time progressed and Adam started growing in confidence, I started doing less of it and we just got on with our separate roles.
Adam - Yes - to begin with, I was writing songs just 'for us'. But now I'm being commissioned to write songs for clients. I also wrote a piece for us to perform on BBC Radio 4Extra for Valentine's Day last year, and a sequel for this year's - do listen out for it - it's about questionable lyrics in love songs!
So how much writing and rehearsing do you have to do before each gig?
Adam - I think a big part of our USP is that we are bespoke - so there's always new material to write and rehearse - but to varying degrees. The personalised touches often get the best responses, and make it more special.
We can usually turn a song around in a day or two. Often it is quite close to the wire - but nothing gets the creativity going like a deadline!
Where have your acts taken you - have they taken you to lots of wild and exotic places ?
Guy - Well, we have been to Florence twice, Courchevel, Cobblers Cove in Barbados, and a yacht off Portofino.
Adam - Yes, the yacht was interesting - we had to sign a pretty long NDA... But closer to home, we've performed at some impressive piles, including Highclere, Cliveden and Woburn Abbey.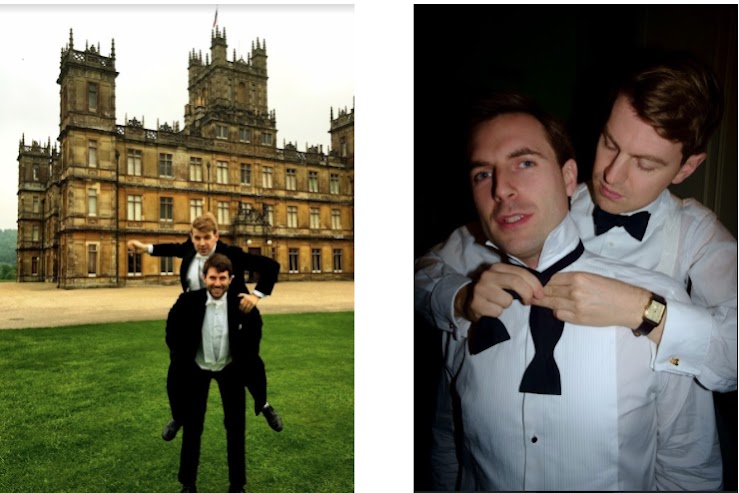 Have you had any weird requests?
Guy - Well we performed for the Jewish Deaf Association. There were nine big tables, and everyone on two of the tables were entirely deaf. So we had to have subtitles on the side and for the first time ever, a sign language interpreter for our lyrics. It was quite risqué in parts and also quite thick and fast, so she had learnt all the sign language for our lyrics off by heart weeks in advance. It was quite moving actually and was really quite impressive - so I think that was our most novel booking.
Adam - We also performed for a certain Prince the other week - not one of the two who have been in the news a lot lately - but again we had to sign an NDA!
Guy- I think tonight's gig is going to be pretty novel; we will have 1,000 people at Grosvenor House for The Cards and Payments Awards. A bit of an Alan Partridge gig! We are doing our 'Tax Evasion Calypso', which we hope isn't going to ring too true… It's quite something to do this never quite knowing how a joke will land. And Gyles Brandreth is hosting, which should be quite fun.
Adam - In other unusual moments - there was a client who commissioned a bespoke song about his (rather domineering) wife got her birthday. The level of detail he went into was quite alarming! He told me 'she does this, and she does that' - then came to the conclusion that the only thing he had power over in their household was the cheeseboard.
So what do you think would be your dream gig?
Adam - We were pretty lucky to make our London debut at Number 10, which set the bar pretty high. But we're still to play Buckingham Palace! We like the idea of being modern-day 'court jesters', poking fun of the powerful.
Guy - For me, it would be The Kremlin - it would be our greatest, and probably our last gig! Or maybe one for Trump; I think there would be a lot of good material!
Adam - I'm not sure we'd survive the Kremlin! We're lucky that in Britain, people generally enjoy being teased.
That was my next question, have you been approached by any TV companies yet?
Adam - Yes, we've been asked a few times - but never quite the right thing. We were on London Live for an interview recently, and they've invited us to come back soon. We also featured in some online videos in an ad campaign for Dundas shirts.
I'm a fan of James Corden's 'Late Late Show'. I think it's bringing back something of that Rat Pack golden age - having a house band, and musical skits with the guests. I'd love Bounder & Cad to do something like that some day.
Can you see yourself doing this in your 60s?
Guy - We would have to do pretty well in the next 10 years in order to get the momentum to carry through. But we love doing this and if we are still having fun and people are still enjoying us, then why not?! And of course as long as we stay friends...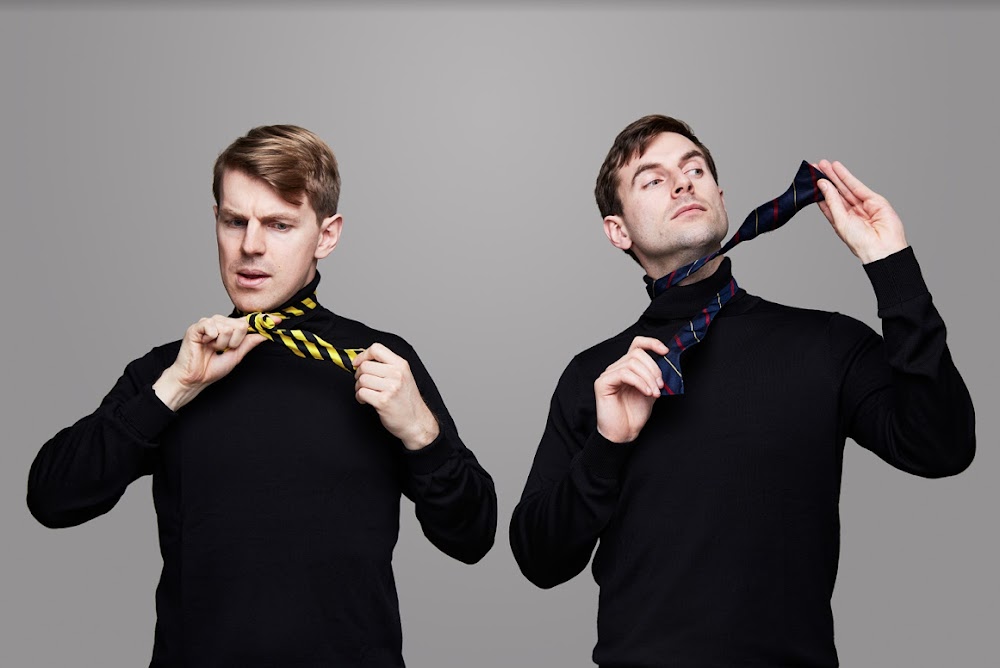 Do you have a YouTube channel?
Adam - Yes indeed! We'd actually love it if Grapevine members might like to follow our online channels. We mostly use Instagram and Facebook, where we put out lots of videos etc - so do check those out here:
http://instagram.com/boundercad
http://www.facebook.com/BounderCad
So have you ever bombed really badly on stage before?
Guy- Yes, there was a very funny one but I'm not sure it can be printed!
Adam - Yes, an ill-advised gag on my part... but best left there! Lesson learnt. The one thing that can go wrong is that if people treat us like background music, and don't listen, it really doesn't work. Luckily that's only happened a couple of times, mainly because of where we were in the running order - but again, we certainly learned from that.
Guy - There was that time we were booked at a very well known restaurant for a Bar Mitzvah after-party. Just before we came on, they served ham sandwiches!
Has anyone ever tried to hire you for a private party or a gig and you said no?
Adam - A rather characterful lady we met in Bath once asked us to appear at a party as naked waiters - but that fell through - maybe just as well. But, embarrassingly enough, we rarely say no to anything!
So finally, who are your heroes of comedy?
Guy & Adam - Dudley Moore, Steve Coogan as Alan Partridge, The Fast Show, Morecambe & Wise, Mitchell & Webb, Harry Enfield, the Flight of the Conchords.
Thank you so much guys, it's been great fun. And it's been fascinating hearing everything about you both and Bounder & Cad's creation. Long may it last!
To book to see Bounder & Cad, please go to, https://www.brasseriezedel.com/live-at-zedel/bounder-and-cad-residency
They have sold out for their monthly performances at Zedel, Piccadilly for the past 2 years.
Upcoming dates: 24th March, 14th April and 6th May.
Grapevine is a trusted network of private members, linking kindred spirits from town or country. Members promote, sell or buy goods and services within the network.
Grapevine also believes in supporting young people to get a strong start through internships and work placements. We also help a number of charities including Heads Together and The Injured Jockeys Fund.